The Tarte Shape Tape Glow Wand Helps Me Look & Feel Well-Rested: Review
Tarte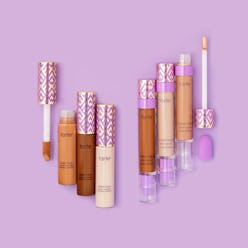 My relationship with sleep is one that needs work. If I had to choose a relationship status on Facebook, I'd say that it's complicated. Don't get me wrong: I love to sleep. I just don't get enough of it. So on the days that I log five hours or less (I know, I know), I rely on concealers to make me look human again. Tarte Shape Tape Contour Concealer in Rich is usually what I go for — but now, my fave has met is match thanks to the newly-launched Tarte Shape Tape Glow Wand.
I know I've written about my adoration for the Shape Tape Contour Concealer, a relationship that developed a little later on in my (makeup) life, as the shade range used to be limited. But ever since the expansion in 2018 I see why the product reportedly sells every 12 seconds worldwide, according to the brand. The stuff actually works, lasts, and doesn't need a setting powder. It's smooth enough to blend without a brush — so I typically do so with my fingers. In the back of a moving Uber. Told you — l'm generally pretty short on time.
But I'll surely be able to squeeze the Shape Tape Glow Wand into my five-minute makeup routine from here on in. Shape Tape Contour Concealer is already excellent for, well, contouring and highlighting, but its new sister — described as a "liquid brightener" and offered in eight shades — is designed to boost radiance without any obvious shimmer. Basically, it's that lit-from-within glow bottled up in a gold and purple-topped tube.
Glow Wand blends extremely easily, and is actually a bit lighter in consistency than the Contour Concealer — which is admittedly a little thick. It's fueled with mango and shea butter, licorice root extract, and plant extracts, so there are skincare qualities there. Mango butter and shea butter are both fabulous for hydration, while licorice root is anti-inflammatory and aides with hyperpigmentation. And the diamond complex in the formula diffuse blue and green light for a blurred, filter-like effect. Upon application, I immediately noticed how soft my skin felt — almost like I applied a bit of serum to the area.
My under-eye circles are dark, and on days when I'm particularly tired, I try to be very generous with my layers. But a little goes a long way with Glow Wand. Instead of drawing an upside-down triangle like I normally do (this creates the illusion of light), I just drew a curved line that followed the shape of my under-eye. I blended it in with a brush, then followed with a tiny bit of Glow Wand, using the included Quickie Blending Sponge to lock it in. And that was it! I looked brighter, my skin felt great, and I actually used less product than I normally do to achieve it. The proof is below: on the right is my under-eye area without concealer, and on the left is what it looks like with my Shape Tape duo.
See? Just like magic.
Glow Wand is available exclusively on QVC.com. The full launch drops in January 2020 at in-store and online at Ulta and on Tarte's website, respectively.