My No-Fail 5-Minute Makeup Routine That Gets Me Out The Door Fast
@laurencaruso_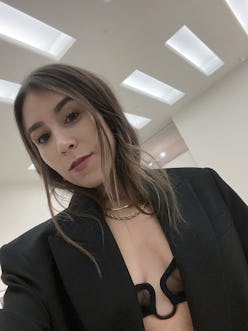 Despite a career in the fashion and beauty world, and despite my deep appreciation of the day-time cat-eye, I don't really have the patience for makeup most days. I'll happily break out the 20-square eyeshadow palette on occasion and I actually keep a handful of red and brown lipsticks in my bag at any given time. But during the week, I can't be bothered with all that. Instead, I rely on a five-minute makeup routine to get me through the work week.
As with most things, a quick makeup routine is dependent on feeling good about your skin, no matter what that looks like. For me, that means well-moisturized and somewhat clear. I still get the occasional breakout, especially with the change of seasons, but I find a (mostly) consistent skin-care routine helps. I start my skincare routine in the shower by exfoliating with Dermalogica's Daily Microfoliant, a super-gentle rice powder-based formula that sloughs off dead skin and any lingering dirt. The moment I get out of the shower, I spritz on Caudalie's Beauty Elixir, followed by Barbara Sturm's Hyaluronic Acid Serum.
I let that sink in while I blow-dry my hair, and then I get to it. Ahead, see the 10 skincare and makeup products that let me sleep in an extra half-hour in the morning.
5-Minute Makeup Routine: Malin + Goetz Advanced Renewal Moisturizer
First, I start with Malin + Goetz moisturizer because it's thin enough to actually sink in. Save the super-thick stuff for nighttime.
5-Minute Makeup Routine: Laura Mercier Tinted Moisturizer In Neutral
In the summer, I stick to It Cosmetics' Your Skin But Better CC Cream, but I like a little more coverage when the cold weather hits. With a wet Beautyblender, I apply Laura Mercier's Tinted Moisturizer in Natural. It offers enough coverage to even out my skin, but not so much that I feel like I'm wearing a mask. I like that I can still see my freckles and beauty marks.
5-Minute Makeup Routine: NARS Creamy Radiant Concealer In Nougatine
Then, to combat any dark circles, I dot NARS Creamy Radiant Concealer underneath my eyes. If I'm extra tired, I mix it with a quick swipe of IT Cosmetics Eye Lift in A Tube, a dual-ended concealer and brightening cream. (I swap that out for YSL's Touche Eclat if I'm truly hopeless.)
5-Minute Makeup Routine: It Cosmetics Brow Power Universal Eyebrow Pencil
Moving onto brows: I recently got them microbladed and went with a more natural look, so when I want a bit more oomph, I fill them in with It Cosmetics Brow Power. The color swipes on almost gray but does a surprisingly good job at matching most hair colors.
5-Minute Makeup Routine: Glossier Boy Brow in Black
Then I brush them with Glossier's Boy Brow in Black for some added hold.
5-Minute Makeup Routine: Tata Harper Volumizing Lip and Cheek
All year-round, I use Tata Harper's Volumizing Lip and Cheek tint in place of powder blush. Though I wish it had a bit more staying power, it lends a nice healthy, almost dewy glow.
5-Minute Makeup Routine: Benefit Cosmetics Hoola Matte Bronzing Powder
I'll top that off with some Hoola bronzer, because old habits die hard.
5-Minute Makeup Routine: RMS Living Luminizer
And then a touch of RMS's Living Luminizer — which I'm convinced is the world's most natural-looking highlighter — on my high points.
5-Minute Makeup Routine: Maybelline Lash Sensational Mascara
I'm lucky in that my lashes are naturally long and dark, but I enhance them with this Maybelline mascara, which wakes me up instantly.
5-Minute Makeup Routine: Dior On Stage Liners
If I'm feeling really fancy and have an extra 30 seconds to spare, I always turn to the same product: Dior's Liquid Eyeliners. I love the minty green and the cobalt blue — no matter the season.