How This Full-Coverage Foundation Actually Made Me Like Foundation
Tarte Cosmetics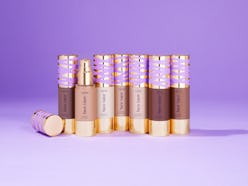 I have very high standards when it comes to choosing — and keeping — foundations and concealers. If your deepest shade applies so much as tan on my dark brown skin, then it likely won't remain on my desk or vanity. Tarte's Shape Tape Foundation, which launched in January 2018, is one that was admittedly in my discard pile. Upon release, the deepest shade of the foundation and cult-classic Shape Tape Contour Concealers was Mahogany, and that initial launch of the foundations included a paltry 15 shades. Now, the brand is making up for it in a massive way with the release of Face Tape Foundation, a 50-shade, five-undertone launch that drops on Feb. 17. In the meantime, Tarte is removing Shape Tape Foundation from all stores for a true blue do-over.
"Point is, we screwed it up," Maureen Kelly, CEO and founder of Tarte Cosmetics, admitted to a small group of beauty editors at a private launch event on Feb. 5. "It was not the right way to launch that foundation. It didn't have enough shades. Once you disappoint someone so deeply, you have to start over." After Shape Tape Foundation, Kelly and her team took on the task of actually listening to their fans (also known affectionately as Tartelettes), scanning thousands of comments, and watching candid YouTube reviews from influencers who were less than pleased with the slim pickings. Granted, the brand did expand its range of the Amazonian Clay Full Coverage Foundation to 40 shades last summer, and eventually, the old Shape Tape Foundation range was widened to 25 as well. But as a leader, Shape Tape Foundation's failure is one that Kelly took personally — something that was evident as tears welled in her eyes during the candid conversation.
"Sometimes, you have to hit the reset button," she admits. "And we hope that Tartelettes will give it a chance. This is everything we should have launched in the first place. The foundation is sweat-proof, waterproof, transfer-proof ... a true powerhouse. It needed to be after everything that happened a year ago."
For the ultimate quality insurance, the brand tapped 50 "real" women and men — including Tarte employees and friends of friends — to help create the shades and undertones. This resulted in tons of feedback once the team and makeup artists hit the drawing board... and I've got to admit that the finished product is very good. While 40-plus options are slowly becoming the norm for base products, finding one shade can be a bit overwhelming. But Face Tape's shade numbering system proves to be super duper helpful: after the number, there's a letter that indicates the product's undertone: N for neutral, S for sand or yellow, H for honey or peach, B for beige or pink, and G for golden or olive.
A Tarte makeup artist helped me find my shade, which, turns out had been wrong this whole time. Before, I used Mahogany for my under eye circles, and Espresso for my dark spots and acne scars. But once he applied 57N, a rich neutral, all of my pesky spots and bags faded away as if I swiped right on Instastories. (Hey, the Paris filter is my favorite.)
The artist only used a couple of dots around the perimeter of my face, blending them inward, and that was all that I needed. A little bit goes a very long way with this one. And true to the brand's promise, the foundation really does lock in on your skin. I used primer (Base Tape Hydrating Primer, to be exact), which typically always helps... but even without it, I know that this stuff would stick. It has snow mushroom extract, apple extract, and hyaluronic acid in the formula, which helps with day-long hydration — something very necessary with New York City's cold and dry winds. And I really like the fact that this one has a pump applicator rather than a doe foot, like Shape Tape, because I can apply it directly on my brush or sponge should I choose.
After a long day of meetings, email ping pong, and massive burrito bowl inhalation, my foundation was still right there... no creasing with just a tiny bit of shine, since my nose and forehead tends to get oily. But other than that, my face was just as matte as I like it to be. Since New York Fashion Week starts today, I have a feeling that I'll be, er, sticking with Face Tape for a while. It's a foundation that puts in overtime because it was launched by hard workers. And the skeptic in me can only respect that.