The $80 Serum That Saves My Life (& Brightens My Skin) During Fashion Month
@aemiliafay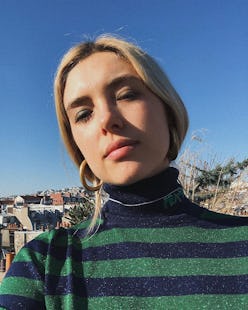 I feel the need to mention this a lot when I get questions about my beauty routine: I'm by no means an expert. My general move when it comes to beauty is to keep things simple, stick to what works, and prioritize happy, healthy skin above all. It's a boring revelation, but one I can safely report makes prepping for a new season simple, even when my schedule is all over the place (which, right about now is an understatement). Currently, I'm buying mini sizes of the summer-to-fall makeup products I'll be hauling to fashion month as I'll not only be in New York, but also Milan and Paris this season.
All of that flying — not to mention long hours, questionable diet, and lack of workout routine — tends to leave me feeling and looking a bit like a sad shell of my usual self. I usually ascribe to the idea that beauty — and specifically makeup — isn't about transforming myself into someone else entirely, but to add a subtle oomph to the features I inherited, love 'em or hate 'em. But how does one apply that methodology when the baseline of self-care is especially low? Below, I'm highlighting my fall hero products that will be saving my skin, boosting my mood, and helping mask the fact that I was, in fact, asleep at 2 a.m. and up five hours later. I've broken things down into three key categories: skin, makeup, and wellness so that you can get a bit of insight into my travel beauty routine, and hopefully gear up for your fall trips, too.
Skin
My skin is naturally dry, but I tend to break out after flights, so I try to make sure to moisturize an obscene amount when I travel. I carry Chanel's La Solution 10 on the plane and apply it throughout my flight. If my skin is still lackluster once I'm on the ground, I swear by Barbara Sturm's Glow Drops to brighten my dull skin, Drunk Elephant's C-Firma for balance, and sunscreen, of course. I'm obsessed with Supergoop's Unseen because it goes on so smoothly.
Makeup
Since my routine is generally simple, I just use a swipe of blush and a bit of mascara to instantly boost my look when I'm feeling sleepy. My other trick: Mix things up with a bold eyeliner or shadow — especially for evenings — since it's playful and also takes little effort for a whole lot of impact.
Wellness
Since I tend to be jet-lagged (on top of the fact that I spend much of the month working late), finding effective ways to help ensure I get as much sleep as possible are key. If I have time, I'll try and squeeze in short jogs in the mornings, just to help kick-start my energy. At night, I avoid melatonin since it tends to make me super groggy, but I've been experimenting with other sleep aids like CBD oils to help. I also swear by a silk face mask, which helps me master the ability of sleep on airplanes. Lastly, if I'm feeling particularly stressed, I use the meditation app Headspace to help me — usually either first thing in the morning or before I head to bed.