The Second Drop Of Victoria Beckham's Reebok Collab Is Here & It's Equally As Sleek
Courtesy of Reebok x Victoria Beckham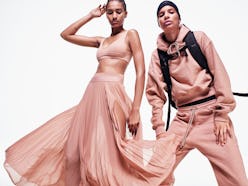 Almost every fashion-inclined individual deals with the same common problem: A closet that's constantly bursting at the seams. Even if you strive to keep your selection pared down to mostly the essentials, it's an inescapable truth that you can't forgo certain sections of your wardrobe (e.g. your office clothes, off-duty attire, workout wear, night out staples). So, any attempts to streamline should involve investing in pieces that can span multiple clothing categories. And that's where the incredibly sleek Reebok x Victoria Beckham Fall/Winter 2019 collection comes in.
On July 24, Reebok unveiled its second collection in collaboration with Victoria Beckham for the Fall/Winter 2019 season. The new drop, which is inspired by Beckham's own affinity for an active lifestyle and her past training in dance, seeks to combine sleek, elevated style with high-tech performance — because the last thing your clothing should do is hold you back. And if you've been looking to streamline your closet with pieces that can be worn from the gym to the street and beyond, it's a collection you absolutely won't want to miss.
"I designed each piece to make the wearer feel confident in their style without compromising on high-performance features. Working out makes me feel strong and empowered and that ethos is reflected throughout the collection," Victoria Beckham said in the collection's official press release.
The second season of Reebok and Victoria Beckham's partnership includes a vast array of women's and unisex pieces that include mix-and-match tops, bottoms, and outer layers, plus shoes and accessories all rendered in chic colors (think timeless neutrals plus pops of on-trend neon) and emblazoned with cool Reebok x VB branding. The magic of the collection is in the balance between London streetwear pieces that pack a dose of edge and delicate, nearly whimsical silhouettes you'd expect to find in a ballet dance studio (this pleated sheer dance skirt, $130, is a prime example).
You'll spot the designer's telltale attention to detail in collection pieces like the uber-sleek VB Image Tights, $180, and matching High Crewneck Running Top, $150, which boast seamless lines and a structured-yet-fluid appearance that Beckham knows exactly how to nail. Wear the pieces together for distance runs, then throw the VB Hooded Jacket, $700, over the top as you cool down to make the look London street-style approved. Swap your running sneakers for a pair of the VB Bolton Sock Low Shoes, $250, with combine throwback '90s design with cool color combinations and suede and synthetic touches.
Swap your standard gym and street wear for several pieces from Beckham's latest Reebok drop, and you'll find it's actually possible to seamlessly go from workout studio to the rest of your life in style. Keep scrolling to see some of the standout pieces from season two of Reebok x Victoria Beckham, and head to the active apparel brand's site for even more.