The Biggest Differences Between Orly & China Glaze Nail Polishes, Explained
Joern Pollex / Getty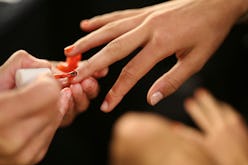 Not all nail polish is created equally, and there are differences that are impossible to notice with a simple swatch test. According to cosmetic chemists and manicurists, there are variables to how nail polishes perform — and they're especially noticeable when assessing Orly vs. China Glaze nail polishes, two drugstore favorite brands.
China Glaze's formula centers around the ingredient kaolin, which is a form of Chinese clay known for its durability and high shine — hence the name China Glaze," Tori Matt, public relations director of the brand, says. "Earlier this year we reformulated the line to make it 7-free — it was 5-free before." Since the polishes are 7-free, they don't contain harmful chemicals like toluene, dibutyl phthalate (DBP), formaldehyde, formaldehyde resin, camphor, TPHP, and xylene. Whereas nail polishes that are 5-free eliminate formaldehyde, dibutyl phthalate, toluene, camphor, and formaldehyde resin.
On the other hand, Orly's cruelty-free formula focuses on a few key ingredients including argan oil, vitamin C, and pro-vitamin B5 that helps strengthen and hydrate nails. These ingredients are great for weak and damaged nails, especially those that are damaged through the process of removing acrylics and dip powders.
So how can you tell the difference between the two brands? According to cosmetic chemist Perry Romanowski, they both have the same base formula that includes ethyl acetate, butyl acetate, and nitrocellulose. The nitrocellulose creates a shiny, hard coat. The ethyl acetate, and butyl acetate are both solvents that help the polish to mix and blend with all of the added ingredients to create a smooth finish. "But the Orly formula has additional polymers and resins that give a different finish and help prevent chipping," he says.
And unless you happen to be a cosmetic chemist, these differences aren't noticeable by just reading the back of the box. Instead, Romanowski notes that the average consumer can make their own observations by noting how the polishes wear over time. Since both of the brands have the same base, they will chip and wear over time. This occurs due to the dulling over the nitrocellulose from constant exposure to water and other day to day tasks.
Ginger King, a cosmetic product developer, agrees. But when it comes down to the actual ingredient list, "Orly has a longer wear because of epoxy resin," she says. And while Orly has additional polymers and resins to help prevent chipping, China Glaze has kaolin clay, which adds extra shine. Even though the differences are small to note, it is a factor when when comparing formulas.
Manicurists also have opinions about the two brands based on the wear of the polish. "Orly's polishes are easy to apply, go on smooth, and the consistency is constant over a wide range of pigments," says Kaitlin Mosher, a celebrity nail artist who works with Andra Day and Chloe Moretz. Whereas with China Glaze, Mosher finds the application more complicated — the polish dries too quickly, which makes for an uneven application. So which brand would Mosher select? "Right now it's Orly, but that could change," she says.
See the best-selling shades from both brands, ahead.
Shop Orly & China Glaze