Why The New Glossier Lip Glosses Won't Be Leaving My Summer Makeup Bag: Review
Glossier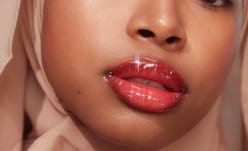 Once upon a time — or about two years ago, maybe — I wouldn't touch any lip product if it wasn't liquid or if it didn't have a matte finish. I didn't like anything sheer, shimmery, or balmy. Just bold mattes for me, thank you very much... the more paint-like, the better. Me circa 2017 would be shocked at the fact that my 2019 self loves lip glosses... and Glossier's new Lip Gloss shades are no exception to that obsession.
Read more: Brands Like Glossier With Cool, Simple, & Affordable Products
It's hard to believe that lip glosses were only reserved for costume parties and your little sister's stocking stuffers not too long ago, but alas, super sleek formulas are very much a thing... and so easy to use. I guess I just thought that glosses didn't look as "done" as a proper liner and lipstick combination, but with innovations in ingredients and packaging, they're just as chic and pretty as my old faithfuls. So much so that I rarely wear lipstick anymore. But I'm still very particular when it comes to the requirements of the product: I can't do a formula that's super heavy and thick. I also don't like my formula too thin, as that requires me to constantly reapply. I'm not adverse to sparkle — especially for festivals or brunch — but for day-to-day, I like a shine rather than a shimmer. And applicators are important, too, as all doe foots are not created equal.
I tried Glossier's Lip Gloss a couple of months after it launched, and it's been a mainstay in my makeup bag ever since, because it checks all of the aforementioned boxes. It's made of jojoba oil, vitamin E, and emollients, so my proclivity to layer up is actually a good thing in this instance. And because the original shade is clear, it goes with everything. Eyeshadow and lipstick combinations can be difficult to figure out, and a nice glossy lip takes the guesswork out of the equation on the occasions when I'm wearing a colored liner or a bright blush. But now, I've got options: Two new shades of Lip Gloss launched today in Red and in Holographic, and I already know that I'll be making space in my bag for the tiny tubes.
Though I love a good blue-based red lip, glosses are a little bit difficult. They look a little bit deceiving on first glance, and oftentimes have too little or too much pigment. I've got to admit that I was a bit duped by Glossier's Red shade, as it looked super punchy in its packaging, but went on sheer once I swatched it on the back of my hand and tried it on my lips. It's the grown-up answer to the $1 candy-scented rollerball formulas I used to buy at my neighborhood beauty supply store back in middle school. There's definitely a hint of tint there, but it's not overpowering. Same with Holographic. The opalescent shimmer is way more intense inside of the tube — so much so that I spent at least five minutes trying to capture the perfect Boomerang — but I only really see the sparkles if I tilt my face to the light.
I'm wearing Glossier Lip Gloss in Red.
I'm all about a little-to-no effort makeup routine, and this gloss already fits into that aesthetic — I swiped on a little bit of Boy Brow in Black, concealed my dark circles, swept on a little bit of blush, and slicked on my new Gloss all within three minutes flat. The 2017 me would be so proud.