Glossier's Cult-Favorite Lip Gloss Just Got New Shades & Michelle Obama Is Already A Fan
Courtesy of Glossier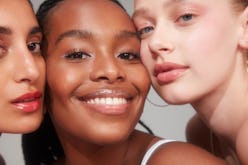 Heads up: This summer is about to get way glossier. Early in the morning on July 9, Glossier added two new shades to its Lip Gloss, turning the fan-favorite $14 lip product into its very own collection. Available on the beauty brand's website at 7 a.m. ET, the new lip gloss shades take a page from the book of Glossier Play — they're a little showy, a tad shimmery, and definitely more colorful than the original Lip Gloss' clear hue.
Nevertheless, this is still Glossier, and the new colors are still perfectly minimalist. The two new shades are named "Red" and "Holographic", and yes, "Red" is exactly what it sounds like. However, the red gloss seems to be much subtler than it looks in the tube (where the pigment is more candy apple than muted). Glossier notes that the Lip Gloss in "Red" will give your lips a sheer tint of color, versus the original "Clear" shade's transparent shine.
Likewise, the "Holographic" shade is described as a low-key opalescent shimmer. So, while a layer of "Holographic" may be a bit more sparkle than you're used to — and more of a pop than the original "Clear" shade — it won't completely overwhelm your makeup look with glitter.
Just now hearing about Lip Gloss, and wondering how it differs from the drugstore glosses you've used before? The key difference is the formula. Glossier's Lip Gloss is made with a blend of jojoba oil, vitamin E, and emollients (or skin-softening ingredients), which keeps the gloss and your lips feeling moisturized and smooth. The emollients also help "bind" the product to your pout — allowing it to actually be a true, long-lasting lip gloss.
And you already have some serious application inspiration, just in case you've never used Glossier's Lip Gloss before: Michelle Obama's Makeup Artist Carl Ray used the new red lip shade on the former First Lady to complete her Essence Festival look. Ray also revealed to Into The Gloss (the beauty website that launched Glossier) that he applied the gloss over Make Up For Ever's Artist Nude Creme Liquid Lipstick; which goes to show just how versatile the colorful gloss can be.
Make sure you move fast if you want to snag both new shades — with Glossier (and Michelle Obama's stamp of approval), you never know how fast a product may sell out. Below, the new "Red" and "Holographic" Lip Gloss colors.