Here's Where To Buy All 3 Stunning New Shades Of NARS' Oil-Infused Lip Tint
Courtesy of NARS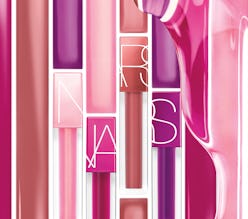 This season, high-shine, super-juicy looking lips are definitely in. You know what's not? Formulas that are so sticky, the second a summer breeze picks up you're suddenly dealing with countless strands of hair stuck to your pout. The solution is the newest generation of oil-based glosses that deliver big on smooth, hydrating texture, just the right tint of sultry color, and none of that gluey, tacky feeling. And that's exactly what you'll get with the NARS Oil-Infused Lip Tint — which just so happens to have three brand-new shades that are so ready for summer. Stock up now so you'll have luscious lips all season long.
A few months back, NARS gave fans of its iconic Orgasm blush something big: A limited-edition collection of cosmetics in the sexy cult-loved shade. And amongst those releases, which included special-edition packaging of the top-selling blush as well as a loose powder formulation, NARS dropped a gorgeous, glossy lip tint with a hydrating gel-oil texture. The new release presented the perfect way to get a wash of that popular peachy-pink glow on your pout — and instant fans of the shiny, sheer formula will be happy to know that NARS has decided to make some more.
On June 7, the beloved beauty brand served up three new shades of the irresistibly shiny lip tint, $26, at Sephora, and all of them are perfectly suited for giving lips the ideal wash of juicy, summery color. Primal Instinct, a pinky nude shade, imparts a hue that mimics and enhances your natural pout (perfect for office days or trips to the beach). On the other hand, hot fuchsia shade High Security and vibrant grape Disco Infernal take things up a notch with a bolder dose of bright-but-sheer pigment that's fit for pool parties, date nights, and everything in between.
And this innovative formula doesn't just make your lips look like they're deliciously juicy — it actually drenches them in effective hydration. The gel-oil tint glides on effortlessly with an infusion of raspberry seed oil and vitamins A and E for an instant dose of moisture and softness. Plus, it's got pomegranate extract to provide protective antioxidants and to extend the tint's hydrating benefits for moisture that lasts all day.
All this, without a gross, greasy feeling or sudden dryness after some wear. So long story short, this product makes your lips feel as good as they look, a tall order for many other tints. And by the way, these shades are currently marked as limited-edition, which means you won't want to waste any time adding them to your shopping cart.
Below, see and shop all three new shades from NARS at Sephora and soon enough your pout will be summer-ready.