11 Derm-Approved, Non-Greasy Gel Moisturizers To Use This Summer
Tata Harper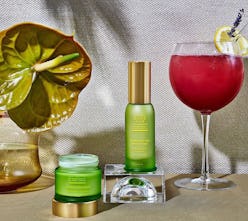 "Everybody gets a little oily in the summer, including me," Tata Harper, founder of her namesake line of natural skincare, tells The Zoe Report. Truer words have never been spoken. As the temperature increases, inevitably, so does your glow... and while glow is usually a good thing, summer's version is often a mix of sweat and sebum that feels more greasy than glamorous. That's where gel moisturizers for summer come in. These products hydrate without feeling heavy; and ahead of the summer season, beauty brands are bringing you options.
"Gel moisturizers are water-based lotions that are lightweight in texture and easily absorbed into skin," Dr. Ronald Moy, a board-certified dermatologist with DNA Renewal, tells The Zoe Report. "They contain fewer emollients and oils than moisturizers that are cream-based." Basically, that means that instead of heavy-duty hydrators — think waxes and butters — gel-textured products rely on featherweight champs like aloe vera gel, hyaluronic acid, and floral waters. Dr. Moy says although they may feel lighter on the skin, they're not any less powerful.
In the case of Erno Lazlo's new Hydra-Therapy Gel Cream, the gel-like texture comes from a mix of moisture-boosting Roman chamomile floral water, anti-inflammatory flaxseed oil, and antioxidant-rich cottonseed oil extract. "This cream can be used day and night to give your skin a silky, matte finish," Kristy Watson, the Chief Marketing Officer of Erno Laszlo, tells TZR.
Tata Harper's take on gel moisturizer starts with what she calls Gel Water Technology. "This new technology uses chia seed water, marsh samphire, and tremella mushroom to create a three part water hydration system that creates hydration, holds moisture, and stores moisture," she says. "The result is an ultra-lightweight moisturizer that still delivers intense hydration but feels weightless on the skin." Notice a theme?
"Gel moisturizers are an especially great option during the summertime, when the skin may be already oily," Dr. Joshua Zeichner of Zeichner Dermatology tells The Zoe Report — but summer is far from the only reason to reach for a gel formula. Experts say that those with acne-prone skin may prefer this texture year-round, since "the emollients in conventional moisturizers can block pores, causing acne," per Dr. Moy.
That being said, there's no skin type that won't do well with a gel. As Watson notes, "Gel creams are also buildable, so you can give yourself as much hydration as you need without leaving your skin feeling weighed down."
Ahead, 11 gel moisturizers good enough to last beyond summer fling status.
Shop Gel Moisturizers