This Is The Most Popular Wedding Registry Gift Right Now
WPA Pool/Getty Images Entertainment/Getty Images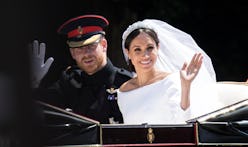 The peak wedding months have arrived, and if your invites have begun piling up, so will your stack of gifts for brides and grooms-to-be. With present trends changing to align with the priorities of today's couples (i.e., experiences over things, practical, stylish home essentials instead of showy formal dinnerware), the most popular wedding registry gifts have changed, too.
As a guest (perhaps, in multiple weddings), there's the issue of affordability; it's no secret that attending a wedding can be expensive, especially if you're a member of the bridal party. Further, you may be tempted to shy away from pre-selected items in favor of something more unique. Lauren Kay, executive editor at The Knot, assures that sticking with the couple's wishes is the best way to go. "We always recommend guests gift off of a couple's registry," she says. "After all, couples take the time to personally curate a list of the most desired items or cash funds that will help them kick off their newlywed lives together."
Ahead, two wedding gurus share their expert tips for buying wedding presents. From emerging trends, to top registry items, to tips for staying on-budget, find out the best way to choose gifts that the bride and groom will love receiving — and just in time for wedding season.
Trends: Cash Gifts Are In, Fine China Is Out
Once considered tacky, cash gifts are not only acceptable, they are becoming an increasingly popular registry item for for soon-to-by newlyweds. "With today's experiential landscape, couples are less interested in material goods and more interested in creating memories together with unique activities on their honeymoon, date nights out, etc.," explains Lauren Grech, CEO and co-founder of LLG Events, which specializes in destination wedding planning. She adds that requesting fine China has become a thing of the past, along with many other home basics. "Because most people are living together before getting married, they have already invested in the items they need to start a home," she continues. "Therefore, couples are registering for wishlist items that are unique, but also useful. For example, we've seen a lot of home bar items such as a wine fridge. These types of items can be used to create those experiences and memories within their home, whether it's just with each other, or with their friends and family."
Also increasing in popularity is charitable gift-giving. For example, says Grech, brides and grooms can register for items that benefit charities through The Knot Gifts Back. Another rising trend is creating a charity registry where cash donations are given in lieu of gifts.
The 5 Most Popular Items On The Knot Registries
Tips For Gift-Giving On A Budget
Short on cash? Grech and Kay share their best tips for giving wedding gifts without breaking the bank.
Start Early & Stick To The Registry. Again, Kay advises that guests stick to the registry whenever possible. "With couples adding an average of 111 products to their registries, there should be a wide range of gift options and price points for guests to choose from," she says. But keep in mind, "gifting early means more options at more price points."
Spend In Consideration Of Your Relationship With The Couple. "If you're attending the wedding of a coworker or distant relative, consider gifting in the price range of $75-100," she continues. "For the wedding of a close relative or friend we recommend giving them a gift ranging between $100-200 or more, especially if the wedding is for someone you're really close to, like a best friend or immediate family member."
Combine Forces With A Group Gift. "For guests who want to purchase one of the larger gifts off a couple's registry like a new TV or stand up paddle boards, but may not be able to finance the entire thing solo, we encourage guests to join forces with a few others to purchase that larger ticket item together," Kay suggests.
Contribute To A Cash Fund. In addition to easy giving for the guests, there's another benefit when couples request cash. "If there aren't any gifts on your friend or family member's registry within the price range you were hoping for, you can contribute to one of their cash registries if possible, meaning you can give any amount you feel comfortable with," she points out.
Be A Bargain Hunter. If time permits, it may be worth choosing a registry item then searching for the best price. "Shop at stores that offer coupons, and honor competitor coupons too," says Grech.
The No-Fail, Last-Minute Gift. Worst-case scenario: You're late to the gift-buying game, the affordable registry items are gone, there's no cash fund options, and your budget is especially tight. For these situations, Grech offers her no-fail gift idea. "You can never go wrong with a good bottle of wine or champagne with two custom wine or champagne glasses," she says. "This is a gift that the couple can enjoy together, or share when hosting friends and family at their home. Again - it's all about creating those memories together as newlyweds to define their new life together."