The $80 H&M Dress That'll Get You Through Every Kind Of Wedding This Season
& OTHER STORIES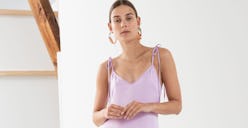 Though one can get married during any 12 months of the year, it's fair to say that your calendar is likely stacked with the most nuptials over the next five months. And putting the sheer number of weddings aside, there's no denying that just one day alone can cost you a pretty penny once the travel, hotel, and gift are totaled up (this is not even taking into account a bachelorette weekend or bridal shower). Now, while you may not be able to save on transportation or the Airbnb your friends booked, what you can save on is your outfit — right now there are a slew of stunning wedding guest dresses under $100.
Yes, you read that correctly: It doesn't have to cost you an arm and a leg to turn heads this wedding season, as there are a range of styles available under the $100 mark. And not to worry— you don't have to scour the internet to uncover these low-cost dresses — a bunch of options have been pulled together for you, so now all that's left for you to do is click "add to cart."
For those who tend to gravitate toward clean, simple designs, this Shoulder Tie Midi Slip Dress from & Other Stories for $69 may just be what you're looking for. A minimalist's dream dress, this lavender satin midi is calling for a set of sculptural earrings and a barely-there sandal that you can dance the night away in. For a longer silhouette, peek at this minty-green tie-collar dress from H&M. Ringing in for $79.99, the style's elegant floaty shape will look just as chic paired with a simple slide for a breezy beach wedding as it will matched up with a metallic heel for a black-tie affair.
However, if you're after a brighter burst of color, opt for this eye-catching pleated green dress from Zara for $69.90. Or, go for a playful floral and pick up this printed flutter sleeve frock from Topshop in a poppy red hue — it'll only set you back $59. For a more subdued flowery print, select this feminine, airy dress in a shade of soft yellow from Mango for $99.99.
Don't wait until the last minute to pull your look together; instead, snag one of the showstoppers below. Continue on for 12 dresses that'll bring the style without the high price tag.