This Genius Tip Will Make Your Bridesmaid Duties Much More Affordable
Craig Blankenhorn/New Line Cinema/Kobal/Shutterstock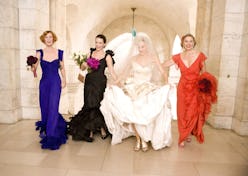 It's no secret that weddings are expensive, and while not inevitable, many couples accept that having the big day of their dreams will come at a price. But as it turns out, the soon-to-be newlyweds aren't the only ones charging their credit cards; wedding guests, particularly those in the party itself, are doing it, too. So if you're wondering how much it costs to be a bridesmaid, in this day and age, the answer is : It can be a lot.
"Being a bridesmaid is a wonderful honor, but it is an honor that can come with a hefty price tag," says Amanda Clayman, Prudential's financial wellness advocate and certified financial therapist. "You will probably need to purchase a dress, shoes, shower, and wedding gift at the minimum, and may also be expected to pay for travel, hotel, a bachelorette party, shower hosting costs, and more."
With wedding season around the corner, it's imperative to start preparing now to avoid going broke. Ahead, wedding and financial experts break down the costs of attending a wedding — in any capacity — and gives tips on the best ways to cut costs. From chipping in on gifts and accommodations to DIY-ing when you can, if you make and stick to a budget, you can have your (wedding) cake and eat it, too.
Attending As A Wedding Guest
Even if you're not a member of the wedding party, simply attending a wedding can put you out hundreds of dollars. "According to The Knot 2018 Wedding Guest Study, guests spend an average of $239 per wedding, including the gift, attire, and accessories," explains Lauren Kay, executive editor of The Knot. These costs include:
$88 on wedding gifts (not including shower or bachelorette party expenses)
$98 on clothing
$53 on accessories
"Guests who are attending from out of town will often have to spend additional money on travel and accommodations," she adds. In fact, destination weddings can substantially compound prices for guests. After tallying basic costs and tacking on accommodation and travel expenses, those heading to destination weddings can spend upwards of $901 total to attend the celebration.
Luckily, if you're not in the bridal party, you can cut costly corners by picking an ensemble that won't break the bank. Better yet, do some shopping in your (or a friend's) closet.
Participating In A Bachelorette Party
Thanks to the 'gram, traditional bar-hopping bachelorette parties have morphed into luxe affairs or days-long destination bachelorette getaways. And while these pre-wedding girls' trips are certainly YOLO-worthy, they come at a price.
Dana Marineau, vice president and financial advocate for Credit Karma, cites a survey regarding debt accrued by wedding attendees. "Nearly a quarter of Americans (23 percent) have gone into debt to attend a bachelor or bachelorette party," she notes. "But for millennials, bachelor(ette)-party debt is even higher (35 percent)." To put a dollar amount on it, Marineau says that over one-third of those mentioned were in the hole $500 or more. Similarly, The Knot survey states that the average bachelorette bash is around $537 per person, including travel, accommodations, and gifts.
Being A Bridesmaid
Needless to say, when it comes to being a bridesmaid, the costs can really accumulate. Get promoted to maid of honor, and they're likely to be amplified even more. "Wedding party members spend on average $1,430 on travel and accommodations for the wedding and bachelor/bachelorette parties, gifts (for the wedding bachelor/bachelorette party and wedding shower), and attire and accessories," explains Kay, citing the aforementioned survey. The breakdown:
$295 on gifts for the wedding, bachelor/bachelorette party, and shower
$519 for wedding and party travel
$392 on wedding and/or party accommodations
$160 on attire
$64 on accessories
This doesn't include the potential costs of professional hair and makeup services, which "can be in the triple digits," says Marineau.
And if you're given the title of MOH? "The maid of honor can expect to spend on all the same things as the other bridesmaids, but they may encounter some additional costs along the way, like those associated with hosting the wedding shower," says Kay. "The MOH is typically in charge of hosting this celebration. Often all the bridesmaids will chip in to cover costs, but the hostess may foot more of the bill." On the plus side, being the chief planner may help you manage expenditure for yourself and the rest of the wedding party.
How To Cut Costs
Be honest: Being asked to participate in wedding festivities that you can't afford can put you in a difficult position. But experts agree that the best approach is to set a budget and be up front with the bride —ASAP. "If you've been asked to be in someone's wedding party, sit down with the couple at the onset of planning and discuss their expectations — time and financial — before you say yes," says Kay. "This will ensure everyone's on the same page and that you understand what taking on the roll of maid of honor, bridesmaid or groomsman will look like."
Make a budget: No matter what capacity you're participating, it's imperative to set a budget. "It can be easy to lose track of what you're spending, so create a budget and stick to it," advises Marineau. "Between travel, gifts, decor, bachelorette activities, your bridesmaid dress, and more, you don't want to be caught surprise on how much you've spent once the wedding is over."
Plus, if you're money-conscious amidst your MOH duties, the rest of the party will thank you. "One of the bigger spends can be the bachelorette party, so when you start planning as the maid of honor, being considerate about cost will not go unnoticed," she says.
DIY bachelorette party activities: "Instead of paying for activities like spa treatments, suggest friends bring their favorite products and swap at the party," Marineau recommends. "From doing each other's nails to at-home face masks, there are still ways to have a great time without breaking the bank."
Split accommodations: If the bride is dead-set on a destination (whether for the bachelorette party or the wedding), see if other attendees are willing to split accommodations. "Hotels can be overpriced, especially during high season," Marineau points out. "Consider renting a house so you can all be under one roof, or if you're feeling adventurous, consider camping." Further, if the wedding takes you on a road trip, try carpooling and splitting the gas money.
Do your own hair and makeup: While the bride may request that the party get professionally made-up, if she's pinning participants with the bill, ask if she'd be willing to compromise. "If the look the bride is going for is relatively simple, consider offering to do your own hair and makeup," says Marineau. "You can do a few trial runs before the wedding so you feel comfortable being your own glam squad on the big day."
Opt for a group gift: "Choose a big-ticket item off the couple's registry and split the cost with the other bridesmaids or wedding guests," says Kay. "You spend what you're comfortable with and the couple gets something they no doubt really want."