15 Engagement Gifts For Couples That Are Actually Useful (& Not At All Cheesy)
Food52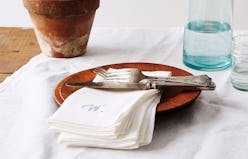 You watched them go on their first date, fall in love, and post pictures of their engagement rings all over Facebook. Now an invite to their engagement party just landed on your doorstep. With most romantic gift ideas more cheesy than chic (and without a handy wedding registry to turn to), how do you even begin picking out engagement gifts for couples?
It's easy: Put down the red glitter and heart-shaped balloons, and give the couple something they'll actually use while planning their new life together. Save lavish gifts for wedding presents; you don't want to feel the gifting etiquette pressure to outdo your first gift when the big day rolls around. Wait to buy specific home goods like appliances or statement decor pieces until the registry rolls around, too; your friend probably already is scouring Target's website scheming up their registry. Modern engagement gifts are more centered on celebrating the couple's love than outfitting their home — and even really, really nice rice cookers don't exactly say "I'm so happy you found The One".
Any spouse-to-be will be thanking you the entire time they plan their wedding if you gift them a wedding planner book, like this chic $33.01 one from Etsy shop Blush and Gold. The book is pretty (how cute is the theme mood board page?) yet no-nonsense, with space for budget planning, seating charts, and honeymoon travel research. It's like having a real life Pinterest board you can write in.
Obviously, a nice bottle of bubbly is fitting for an engagement party, but you can make your gift stick out of the champagne bottle crowd by changing it up. Not only does a bottle of Woodford Reserve Bourbon make a seriously gorgeous gift at only $42, the 750 milliliter will last longer than champagne. Maybe much longer; according to The Knot's 2017 Real Weddings Study, the average wedding alcohol cost is $2,365 — so giving a smooth bottle of bourbon your friends can save until the wedding bar's open will help them later on. Make it even more special with a custom engraving of the couple's names or the date they got engaged.
Not drinkers? Not a problem. Wrap up a fancy bottle of non-alcoholic Belvoir sparkling lemonade for the couple. The elderflower and rose flavor is a swoon-worthy pink color, and the lettering on the bottle is cute enough for gifting. Since the lemonade is so cheap (only $5.49 at Target), it makes a fun extra gift that feels special.
If the party is for a family member or the best friends you've known forever, chances are you'll want to gift them something they can use for years to come. Smaller, monogrammed pieces are thoughtful and commemorate the occasion itself, and won't compete with whatever ends up on the wedding registry. This set of four Celina Mancurti monogrammed linen napkins from Food52 retail at $80, and the delicate blue stitching will make your friend's mind race to dream up what their "something blue" should be.
Engagement season lasts until February, which means engagement party season is right around the corner, and this time you're prepared. From co-workers to sisters, best friends to distant cousins, become the master of modern engagement gifting by browsing all 15 useful gift ideas below.