Influencer-Approved Trends You'll Be Seeing At Every Festival This Year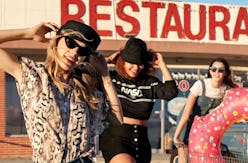 Festival season is upon us, and along with its arrival comes an overwhelming amount of trend forecasting and fashion inspiration. If you're worried about packing a weekend's worth of amazing outfits into just one suitcase, don't be overwhelmed — you still have plenty of time to plan your looks, and we're here to help.
To start, we're going straight to the source of some of the biggest trends we've seen on the festival circuit: influencers.
Whether you follow the biggest style stars on Instagram religiously or can only name a few, the fact is that they often set the trends. Even better? Most of their looks are easily replicable with a little bit of research. Instead of waiting for a last-minute packing panic, take a page out of their books — or feeds, rather — and get an early start.
Want to work in a wild print? Look to snakeskin, fashion's latest fave. And though the Canadian tuxedo may prove to be too much for everyday wear, it's the perfect look for catching your favorite artists.
In our careful research of our personal Instagram faves, we've spotted a few trends you're sure to see in your feeds this festival season. In partnership with H&M, here's exactly how to style them.
Denim On Denim
Denim jacket, Shirt, A-Line skirt, Sneakers, Belt bag
Double denim, denim squared, the Canadian tuxedo, or simply denim-on-denim — whatever you call this look, it's destined to be a go-to for festival season. Once you've got your key denim pieces, you just need to complete the outfit with accessories like a belt bag or dad sneakers. And voila: an easy look that's effortlessly cool.
Overalls
Denim Dress, T-shirt, Sandals, Shoulder Bag, Hoop Earrings
This all-in-one trend has made its way from your childhood to the closets of our favorite style stars, and the key to making it work is all about how you style it. Chic snakeskin sandals, classic gold tone hoops and a small shoulder bag make it feel less farmhand and more festival.
The New Animal Print
Shirt Dress, A-Line Skirt, Ankle Boots, Sunglasses, Hat
Animal prints are always a festival staple, but for awhile, leopard print was the star. This season, there's a new print in town: snakeskin. Whether you wear it in a subtle way or make a statement with a relaxed shirtdress, it's a trend that you should try even if you don't make it to a festival this year.
Dressed-Up Graphic Tee
Denim Jacket, T-Shirt, Long Skirt, Waist Belt, Platform Boots
A graphic tee might feel like a throwback to high school, but dressed up with a sheer long skirt, double-buckle waist belt, and platform boots, it can be the perfect elevated cool-girl staple for catching your favorite band from the VIP section.
Shop Our Picks
In partnership with H&M.