The Genius Eyebrow Hack Rosie Huntington-Whiteley Swears By That Costs Next To Nothing
Presley Ann/Getty Images For Beautycon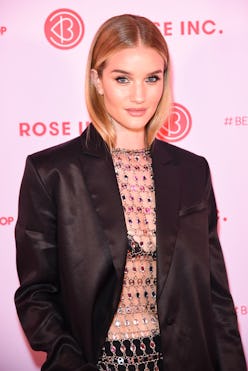 As ideal as it is to walk out the door with your makeup and hair done to perfection, it's just not reality. Between hectic work schedules, social calendars, and other commitments, finding the time to go through your full-fledged beauty routine (skincare included) can be a rare occasion — even for the supermodels of the world. Just ask Rosie Huntington-Whiteley, who juggles motherhood, running a beauty start-up, and everything in-between on the daily. So what does she do on a particularly rushed day? Apparently, the model swears by a pretty brilliant eyebrow hack.
The Zoe Report caught up with the now editor-in-chief as she celebrated a partnership with her new lifestyle platform Rose Inc. and Beautycon Media at experiential pop-up Beautycon POP in Beverly Hills, California. Launched last year, Rose Inc. deep-dives into the beauty industry, highlighting top stylists, makeup artists, influencers and general movers and shakers in the business — and, of course, spilling all the hacks and tips. The site was developed as a response to the constant conversation and inquiries surrounding founder Huntington-Whiteley's own tips and tricks she's learned over the years. And, considering her constant and effortless glow, it's safe to say people are all ears.
In addition to her inaugural brand, the British entrepreneur talked all things beauty, giving special love to her perfectly sculpted brows. "On the rare occasion that I leave the house without any makeup on — and that really is rare because I love wearing makeup — I will always groom my eyebrows," said Huntington-Whiteley. "Just a bit of eyebrow gel. I've used Anastasia Clear Brow Gel for as long as I can remember. It works and it holds my eyebrows until the end of the day."
And if she finds herself without her beloved brow product, the model turns to a tried-and-true hack that never fails. "Try a spoolie and hairspray," she said. "It works like a dream." You can't knock a beauty hack that costs next to nothing and takes under a minute. Genius.
And that's not the only budget-friendly makeup tip Huntington-Whiteley has up her sleeve. The model is a big fan of Bare Minerals Original Loose Powder Foundation. Yes, the face powder most millennials grew up on is also a favorite among A-listers. "It's my all-time favorite hero product," she said. At $31 a jar, this lightweight powder is on the more affordable side of the foundation spectrum. And since a little goes along way, it's basically a steal.
The accessible makeup tips don't end there. The Rose Inc. founder also revealed another surprising makeup must-have that costs all of $5 and could very well be the secret to her always plump and perfect-looking lips: Burt's Bees Tinted Lip Balm. "You'll never open one of my handbags without finding a Burt's Bees balm rolling around in there," she said. "I probably have about 10 all over my car. It's the perfect lip balm for me — it leaves your lips a little bit tingly, a little bit red, it's not shiny, it's not matte, and it has a great texture to it."
Shop the model's affordable essentials below, and be sure to give that eyebrow hack a whirl!