The Attico & ERES Teamed Up To Create An Italian-Inspired Swimwear Capsule — & It's *Very* Luxe
Courtesy of ERES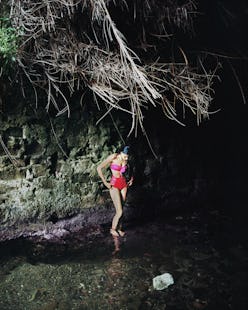 In your wildest daydreams about a whirlwind summer vacation in the Mediterranean, it's safe to say they're not complete without visions of frolicking along the seaside, in a really stylish swimsuit of course. And whether you've got plans in place to make that reverie a reality, or you're sticking a bit closer to home this season, one fact remains certain: You need a chic bathing suit for your days spent soaking up the sun. If you haven't yet found one, ERES' The Attico collab presents two incredibly luxe options that'll be hard to resist — in fact, they're the stuff of Italian summer dreams.
It's becoming increasingly evident that summer 2019 is the season of collabs. And with winners to choose from like the throwback shoes your inner '90s fashion girl will love to the limited-edition activewear release that'll motivate you to get moving, it's not likely that you're complaining considering they've got your closet looking good — so keep 'em coming, right? Well, ERES and The Attico are doing just that with their July 12 launch, which includes a two-suit swimwear capsule you'll want to snag for your summer wardrobe.
The stylish duo's swimwear launch presents two limited-edition swimsuits designed to embody the free and elegant spirit of the Italian summertime. Indeed, the name of the collection is "Luglio Col Bene Che Ti Voglio", which means "July, With The Love I Have For You" if that gives you any indication of the romantic, chic vibe that the brands were going for. And one peek at these suits will have you falling in love, too.
ERES' collaboration with The Attico serves up one bikini and one one-piece suit, in rich and vibrant solid hues that'll complement your summer tan. For the bikini, $499, the designers went with one of The Attico's signature color combinations of red and fuchsia for a statement-making look. The bright pink bandeau top showcases another signature of the stylish fashion brand, namely the oversize knot detail that'll add a dose of playful flair. It's paired with a high-waisted bottom in a red-hot shade that'll emphasize your bronzed legs as you lounge poolside, rosé in hand.
The just-dropped one-piece, $692, looks incredibly luxe thanks to a deep lilac shade and distinct cutout below the bust, which features the same telltale Attico oversized knot. The large cutout and strapless silhouette gives the suit a major dose of sex-appeal, while the sleek, classic cut bottoms keep you comfortable. Post-beach, pull on a pair of breezy palazzo pants, wedges, and a wide brim hat for an ultra-glam look that says you're more than accustomed to the Italian villa lifestyle.
Invest in your favorite of the two swimsuits on The Attico's newly revamped website, which also features further collaborations included in the summery themed capsule collection — like a pair of Linda Farrow sunglasses that'll pair perfectly with your brand new suit. Below, see both ERES x The Attico swimwear designs, and start deliberating which you'd pick for your summer daydreams turned reality.