Peloton Teamed Up With Your Favorite Activewear Brand For A Very Sporty New Collab
Courtesy of Peloton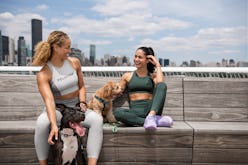 There's never been a better era for working out, and doing so in style. Gone are the days of grabbing a stained, old tee and some weathered shorts to break a sweat; thanks to today's generation of technical activewear, there's no shortage of workout apparel to suit every athletic style and aesthetic. And if you're currently in need of a exercise clothing upgrade you're in luck, because the Peloton x Outdoor Voices collaboration is the latest sleek collection to make getting active look sleeker than ever — no matter how you choose to do it.
Global fitness platform Peloton and cult-loved activewear brand Outdoor Voices have more in common than just a shared love of sweat-inducing activities. Both big fitness names also feel strongly about fostering a strong sense of community. After all, Peloton connects people from the comfort of their homes to real-time online group classes, and Outdoor Voices regularly hosts fitness meet-ups IRL across the United States (often complete with some stylish OV swag, of course). So, it makes sense that the two would get together to put out some sleek gear that keeps your gym style on point so you can show up and shine.
"We are bringing the power of our communities together – to get our bodies moving and have fun with friends," founder and CEO of Outdoor Voices Ty Haney said in an official press release. "One of the main reasons we chose to partner with Peloton is because of our shared values, and the ability to create meaningful products that allow people to show up on the bike, tread, mat, and beyond. At the end of the day, our goal is to outfit our community with the highest quality technical apparel for Recreation."
The limited-edition Peloton x Outdoor Voices collection, now up for grabs on Peloton's site and 17 of its U.S. showrooms, includes seven sweat-ready pieces for women (plus five mens' styles) for style-savvy gym-goers who need gear that can perform in a wide variety of activities. The products utilize Outdoor Voices' super-technical materials like breathable EcoMesh, moisture-wicking TechSweat, lightweight Cloudknit, and its signature Textured Compression to satisfy cyclist enthusiasts, dedicated yogis, routine runners, and recreational athletes alike.
Plus, they're rendered in cool mix-and-match colors like grey, blue, and green — making it easier than ever to throw on a stylish outfit and get out there to break a sweat. For summer runs, pair the Peloton W Ecomesh Tank Top, $45, with some flexible, sweat-wicking Techsweat 7/8 Flex Leggings in navy blue or deep green, $85, so you stay cool as temperatures soar.
Snag the Athena Crop Top, $45 in neutral grey tones for gym sessions and outdoor hikes alike — it matches perfectly with the 3/4 Two-Tone Leggings, $85, in Outdoor Voices' comfortable compression fabric. And for cool downs, the brands' collab also includes a Peloton Cloudknit Hoodie, $85, in the softest, coziest material that's so lightweight you'll never want to take it off (seriously).
And as if some new high-performance, high-style activewear wasn't enough, Peloton is even offering a free 30-day trial of its Peloton Digital online community to the Outdoor Voices family. That means a whole month of access to the brand's running, walking, bootcamp, yoga, and more verticals, giving you more ways than ever to get moving. Sounds pretty good, right?
Ready to get in on the action and upgrade your activewear? Keep scrolling to shop all seven women's styles, below, and head to Peloton's site for the whole collab.