HAIGHT Teamed Up With FILA For Another Swimwear Collab — & It's Available In The US For The First Time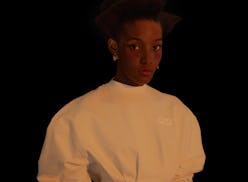 Sometimes, collaborations seem to fly a bit under the radar. Perhaps it was an extremely limited release that sold out before you even caught wind of the drop, or maybe it was only available in select stores far from your city. And if you haven't yet heard about the HAIGHT x FILA collab, you'd definitely be forgiven, because the first launch was only up for grabs in all the way over in Brazil. Now it's back for a second round — but this time, it's crossing stateside so you'll be able to finally get your hands on the sporty-chic pieces yourself.
What happens when a super-sleek Brazilian swimwear label and an iconic Italian sportswear line get together? The answer can be found in the collaboration between HAIGHT and FILA, which launched its second installment on June 15 with 24 fresh swim and leisurewear styles for men and women. And for the first time, shoppers will be able to score the pieces internationally, by shopping it at FortyFiveTen NYC, FortyFiveTen Dallas, Maison Jolie, and Goop's retail site.
For the collaboration's international debut, HAIGHT pulled from FILA's archives to put a sexy, minimalist spin on the classic brand's retro, sporty pieces. The result is sophisticated swim suits in one and two pieces, and sleek, elevated toppers to take you from gym to brunch (and anywhere in between).
So far, it looks like three of the pieces are up for grabs online at Goop — one of which is a sexy, sporty bathing suit that's actually two for the price of one. The HAIGHT X FILA REVERSIBLE 80S MAILLOT, $231, is cut in a classic '80s silhouette, with a scoop neck and high-cut legs. On one side, it's a bright, juicy cherry red that gives off a glam, sexy vibe, and on the reverse you'll find a white and red pinstripe that provides sporty charm. Either way you wear it, you're sure to feel confident strutting across the pool deck.
You'll also find two simple, but very stylish toppers amongst the HAIGHT x FILA offerings at Goop. A $430 cropped, hooded bomber jacket in bold red (the same shade as one side of the reversible suit) is athleisure at its best, and fit for wear over your workout clothes to and from spinning class — or zipped up over the collab's matching one piece after you take a dip in the hot tub on vacation.
The other is an optic white pleated top, $231, which also features a cropped hemline plus tons of chic tailoring. It's got tuck pleats at the cuffs and the waist, and just enough volume in the sleeves to make it more than just your average pullover. Swap it in place of your tattered old sweatshirt for errands, or pair with sleek wide-leg pants for a lunch with friends.
Below, grab all three pieces from the HAIGHT x FILA collab at Goop, and keep an eye out to see when the rest of the line lands in the States.