This Is The *Only* Accessory I'm Buying For Spring
Shutterstock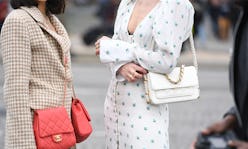 If I've even so much as bumped into you on the subway, I've likely told you about my obsession with By Far's Rachel bag. Considering I've more or less worn the same crossbody for the last five years, it isn't really like me to fall head over heels in the bag department. (Truthfully, I'd rather spend my money on a great pair of jeans or a pretty top.) My mindset changed, of course, the very second I laid eyes on By Far's '90s-inspired baguette bag.
By Far, the Instagram-famous brand loved by street-style stars and celebrities alike, has nailed the 1990s aesthetic to a T. While '90s style has influenced the fashion cycle for quite a few seasons now, By Far approaches the iconic decade in a sophisticated way that especially appeals to me. Strappy sandals, square-toe boots, and mini shoulder bags are the Bulgarian brand's bread and butter — and it's easy to see why they continually sell out.
The Rachel bag, fittingly named after Rachel Green of Friends, is simplicity done right. The bag brings back the baguette silhoette of the past and is defined by its short shoulder strap, subtle gold hardware, and petite size. In a market saturated with micro bags that barely fit an AirPod (let alone your essentials), the Rachel feels refreshingly practical.
My style philosophy is simple: When I like something, I wear it constantly. And this season, there's no doubt I'll be pairing the Rachel with every single outfit I dream up — whether it's to the office, or out for drinks. I hereby declare that this sleek bag is the only accessory I'll be buying for spring — I'm that confident it will go with everything in my closet.
To prove just how versatile it is, I rounded up three ways I plan on wearing the Rachel in the coming weeks, from the office to happy hour and beyond. Don't blame me if you become obsessed with it, too.
Nine To Five
The Zoe Report office leans on the casual side, but I like to wear pieces that are somewhat more elevated than my typical weekend looks. I commute to work with very little in my bag, so my plan is to reach for the Rachel to carry my necessities (read: keys, phone, wallet, and lip balm). I picture my spring uniform to look a little something like this.
Saturday Afternoon
I put minimal effort into my weekend ensembles, but I like when they look thoughtfully planned. There's nothing better than an easy, lightweight dress for a warm Saturday afternoon, which I'll pair with the Rachel, white sneakers, and some black shades for an uncomplicated look.
Happy Hour
I don't see myself departing from my going-out uniform anytime soon (jeans and a top will forever be my go-to), but I'm confident the Rachel will take my look to new heights. Plus, the baguette shape is the ideal silhouette for evening wear: It's equal parts inconspicuous and stylish.