The Genius Detail In Dyson's New Paddle Brush That'll Make Styling Your Hair So Much Easier
Shutterstock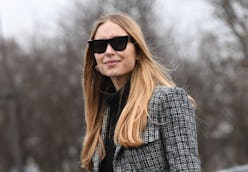 Deciding each morning whether to take the time to style your hair, or simply give it a quick spritz of dry shampoo and blast of the blow dryer before rushing out the door — it's often a daily struggle. Why spend extra time agonizing over your strands when you could be snoozing, right? But the problem may just be in the products. And the just-dropped Dyson Styling Set could be your solution. The revolutionary personal care line just dropped the two tools that'll make your hair styling simpler than ever, and you're gonna want them STAT.
It's no secret that Dyson — formerly known for its top-rated vacuums — seriously changed the game when it introduced its high-tech Supersonic hair dryer and then its inventive Airwrap styler. Now, the brand is ready to reconfigure your hair styling tool kit once again with the introduction of its new Styling Set, now available to shop on Dyson.com.
The two-piece kit includes a detangling comb and paddle brush and is priced at just $65, which is comparatively quite low considering Dyson's high-end hair dryer and styler retail at $399.99 and $499.99 respectively for the base level models. But just because the duo of tools is sold at a much lower price point doesn't mean you'd be missing out on the smart-beauty savvy that's offered when using the brand's other personal care products.
The new detangling comb is created with wide, polished teeth that'll make easy work of gliding through hair — wet or dry — to remove tangles and knots with minimal friction. That means less pain while you try to get your tresses tangle-free post-shower or even mid-day. The smooth teeth also feature rounded off ends, so the comb is gentle on your scalp instead of scratching it up with each swipe. Who knew such a simple tool could be totally reinvented?
And the paddle brush gets even more technical. It's engineered with a genius weighted handle so the brush feels more balanced in your hand, making blow drying your strands a total breeze. No more fumbling with a flimsy brush in one hand while directing hot air at your head with the other. The wide paddle also features an air-cushion suspension system for the bristles to increase scalp comfort, and promises perfectly smoothed hair every time.
And don't worry if your hair styling suite doesn't already include the rest of Dyson's super-engineered products — these two brushes will work just as well with other brands' hot tools. Grab the pair for yourself below.