The Dyson Vacuum With More Than 400 Perfect Reviews Is On Sale Right Now
Bed Bath & Beyond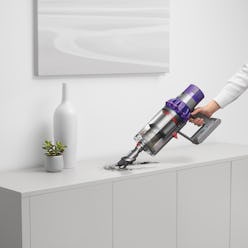 Everyone's been there. It's the middle of the week, your house isn't exactly sparkling, and you suddenly get a text from a family member (or a coworker, or anyone else important) that they're dropping by for some reason in 30 minutes. Rather than fall into a trap scrolling online guides on how to clean your house fast — which, ironically, take some time to read — plan ahead by shopping Bed Bath & Beyond's Dyson vacuum sale. Your future self will thank you.
OK, you probably already own a vacuum. But is it a cord-free vacuum with perfect reviews that can work on hardwood floors and carpets? If not, grab the Dyson V7 Motorhead Stick Vacuum before the sale is over. The unit regularly retails for $299.99 but is discounted to just $249.99. Over 400 of the of the 565 reviews on Bed Bath & Beyond's site give the vacuum a perfect rating, and its features can explain why: Besides being equipped with Dyson's V7 Motorhead brush bar, the vacuum is battery-charged and has a 30-minute run time. Which means no more searching for an outlet in every corner of your house, or accidentally tangling up a long cord after you're done.
While Dyson's V7 is powerful, the Cyclone V10 is one of Dyson's best vacuums on the market currently, and the Animal version has fantastic reviews. Marked down to $499.99 from $599.99, the 5-star vacuum is cordless, too — and it has the ability to run for an entire hour on a single charge.
Like its name implies, the Animal vacuum is great for pet owners. It comes with Dyson's Torque drive cleaner head, which Dyson claims to be one of its most powerful attachments yet. The Animal vacuum has a 40 percent bigger bin than Dyson's V8 Absolute vacuum and, when compared, was found to remove 25 percent more dust when switched onto its top power mode.
Continue scrolling down to browse all the Dyson vacuums currently on sale at Bed Bath & Beyond. While there may only be five to pick from, what the sale lacks in quantity it makes up for in quality and plenty of great reviews.