These Chanel Boots Are Ideal For A Snow Trip According To Influencer Aleali May
@alealimay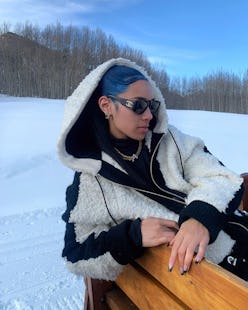 When it's cold outside, your first thought isn't about looking cool; it's usually just about how to keep from freezing. But, influencer Aleali May has the unusual ability to make layered-up ski gear — snow pants, sweater, jacket, hat, and even goggles — into a look. Her secret weapon? "Thermal socks because my toes are like icicles!" she explains to TZR. May just returned from a visit to Aspen with Chanel, where she spent a few days dog sledding, skiing, and even s'more making in Chanel's winter boots, bags, and cold-weather staples — amassing first hand knowledge of how to balance dressing up with actually keeping comfortable and cozy.
May wears many hats — designer, stylist, model, and influencer. And her signature streetwear-heavy style is part of what has set her apart among a sea of other trendsetters working with luxury brands. She's able to style the same runway pieces in a way that's entirely her own. On a ski trip, she explains that she relies on practical gear like snow boots, and ski separates to help her pull off the look. "lots of heat tech and thermals, sweats, and sweaters when you get back to the hotel to warm up," she explains of her Aspen packing list. "A ski suit is always good for winter activities because it's waterproof and amazing in bad weather conditions."
While packing for a beach getaway is easy (mostly swimsuits), fitting all the necessary pieces in your suitcase for a snowy trip can be trickier, often leaving you short on space. "I lean more towards puffer jackets because they deflate in your suitcase," explains May. "Try to have one athletic shoe and one boot."
If you're planning on spending any time out in the snow, May suggests looking for a winter boot style that has a practical outer and a cozy lining, "rubber and nylon or something with hiking spikes on the bottom to grip the icy roads." Many luxury brands have embraced the sportswear trends of the last few seasons offering ultra-practical designs that can survive extreme elements. "My Chanel boots I have now are shearling on the inside with a rubber toe and spikes on the bottom," May explains. Opt for a style that's ankle height or taller and tuck in your pants to ensure you avoid getting any snow down your sock.
For those that feel any outfit isn't complete without a bag, finding the right one for a winter trip requires some extra consideration. Strappy styles tend to slip off of the shoulder of bulky coats, and it's ideal to avoid top-handle styles that require leaving your hands exposed to the elements. "I've been wearing a Chanel crossbody bag that's made of nylon and coated canvas," May says. "It's durable and [you] can wipe off liquids just in case the hot chocolate spills after dog sledding. Zip pockets are trustworthy for trips like this because you don't want to loose important accessories. Heat warmers can also fit in your bag before using." For cold weather, you can also consider a backpack or waist bag in other weather-friendly fabrications including slick leather or a cozy shearling, just be sure to avoid anything too textured that will easily collect snow.