The Rule You Should Follow Before Buying Boots This Winter
Edward Berthelot/Getty Images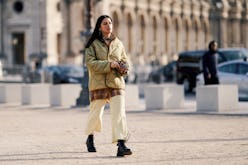 Hiking boots aren't the first footwear that comes to mind if you're packing for a visit to NYC. But, as a resident, I've come to recognize that it can't all be about stilettos. When you're constantly at risk of sticking a heel in a subway grate (been there) or face planting off the top of a gutter snow pile (done that), you need boots that make walking city streets easier instead of more dangerous. Luckily the most stylish winter boots I've seen women wearing this season happen to also be entirely practical — yes, hiking boots, too.
While you don't have to rule out a high heel entirely, the key here is to seek out styles that have a lower pitch. This could mean testing out a sturdy lug sole (a personal favorite), a flat Chelsea boot, or something with a shorter, chunky heel — all of which actually allow for navigating around an impending puddle or snow pile. When in doubt, my recommendation is to follow the one mile rule. If you know you can't walk comfortably for at least one mile in your boot of choice, skip it in inclement weather. Snow and ice tend to complicate commutes and if you know you can't walk comfortably in shoes on a day of ideal circumstances, ultimately, they won't be able to hold up under less-than-ideal conditions.
Below, see and shop the best winter boots to style with your cold weather outfits.
Combat Boots
Lace-up combat boots are ideal for days when you're planning to do some walking. They're sturdy, and look extra cool with pants tucked in. You can also style them with a full skirt for an evening look that's a bit more dressed down.
Hiking Boots
Repurpose your hiking-friendly footwear for everyday use. A bold color, like Outdoor Voices' recent collab with Merrell is a fun choice for adding oomph to your winter look. Try styling with a light dress (and heat tech) for a play in contrasts.
Lug-Sole Boots
A thick platform or lug-sole style is not only ideal for traipsing through snow, it adds just the right amount of edge to your everyday look. Style with high socks and a sweater with trousers or a maxi skirt. The final look will be perfectly on trend with every industry insider.
Patent Boots
If you're worried about your leather getting stained by salty sidewalks, try a style in rubber or patent with a low heel. It's still fashion-forward but with a practical twist. Try styling with jeans and a statement coat for a look that's temperature friendly but put-together enough for the office.
Low-Heel Boots
If you decide to wear a heel, make sure it's one that won't put you at risk of slips. A low block heel still provides all the support you need while giving off a dressier vibe than something flat. Try a calf-high style with a dress and tights for an evening look that's polished without feeling too stuffy.
Snow Boots
When in doubt, go for a tried-and-true classic, the snow boot. Your feet will be undoubtably dry and cozy, since they're built to handle the worst of weather. Style with a more relaxed ensemble and you're good to go.
This article was originally published on