This 3-Piece Outfit Is My Ideal Winter Birthday Look
Getty Images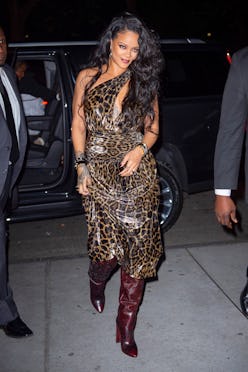 Capricorn season is here, and with it comes my birthday. While there are still quite a few items on my shopping list that I haven't been able to get to yet this year, now is my chance — I'm finally in the mood to shop for party attire! I love channeling my favorite celebrity or designer of the moment for inspiration and right now muses like Solange and Rihanna are swaying my style. Rihanna has ushered in any number of trends; in 2016 it was her iconic baby blue sheer Rosamosario robe in her "Needed Me" video. Now, her daring dress and tall boots outfit is on my birthday moodboard. But, because it's winter after all, I have to add tights to my ensemble.
Last year, I had a rebellious moment and dyed my hair platinum blonde, channeling Solange's daring Surface Magazine cover. But this year I've decided to take a more nostalgic approach to my entire look, beauty included. I'm thinking '90s-inspired slip or bodycon dresses, knee-high or over-the-knee boots, and statement tights as the finishing touch. Princess Diana's short and voluminous haircut is my primary source of hair inspiration. I'll stick with what I know and sport my short, natural curly tresses with ash blonde tips, and add easy makeup like mascara and a sultry dark lip.
Though winter fashion isn't admittedly the most exciting for me, I've been inspired by the '90s references found in the latest collections of brands like Alexander Wang and Mugler that remind me of my childhood. The cool grungy-with-polish aesthetic will be my inspiration to commemorate my coming into a new age and a new year.
Take a closer look into everything I'm shopping to complement my birthday festivities below.
Dresses
Although I have no concrete plans regarding where I'll be celebrating this year, dressing up is definitely on the agenda. I'm swapping out my usual trousers and oversized t-shirts for something a bit more festive. Designers like Zeynep Arcay, Nensi Dojaka and Vetements all fit the bill wit LBDs that feel modern. I appreciate the feminine fit and tailoring of their dresses embracing my curves.
Boots
I love the silhouette and versatility of tall boots. They can be worn over denim, or in my case paired with a mini dress. Ritch Erani's soft stretchy leather will hold up through a long night of dancing. Rejina Pyo and Givenchy's sorbet-hued iterations are a fun contrast with the black dress. Sporting knee-length boots with short dresses also gives the illusion that I'm taller than I actually am — and I'm totally okay with that.
Tights
One unexpectedly quirky addition to my look is a pair of fun tights. I typically like to keep my accessories to a minimum, but I'm ready to mix things up. Marc Jacobs' two-toned tights, Gucci's slime-green lace and Paco Rabanne's leopard print all ensure I'll stand out in the most fashionable way.