5 Must-Buy Summer Pieces That Princess Diana Wore On Repeat
John Shelley/Shutterstock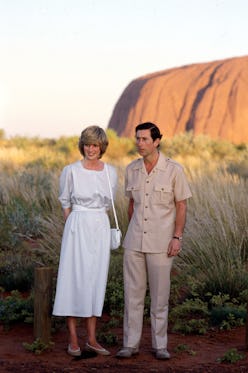 Every time Meghan Markle and Kate Middleton make a public appearance, there's an understandable frenzied rush to break down their ensembles. Oftentimes there is a certain symbolism to their outfit and jewelry choices, and if the shoes they wear are still in stock somewhere, well, odds are they'll soon be sold out. So is the power of royal style. But, another draw is simply the fact that Britain's royal family has remarkably timeless style. The fact that Princess Diana's summer staples are on trend in 2019 is prime example of that.
During the '80s and '90s, Diana set herself apart as a trendsetter on a global level, emerging as one of the first bonafide street-style stars before that phrase ever existed. As she traveled the world — jet-setting to Australia or New York on royal duties, Diana established a few favorite wardrobe staples for warm weather. Despite summer temperatures, her style was unsurprisingly polished as she undertook diplomatic meetings. But, her off-duty look was equally inspiring, and entirely relevant for today. She tended to favor a preppy aesthetic, but with a notably relaxed air. Below, you'll find five key trends from 2019 that Princess Diana masterfully pioneered 30 years ago. Along with a look back at Diana's ensembles, you can shop the modern iterations of her go-to pieces.
Billowy White Dress
A billowy white dress is the ideal piece for keeping cool while enjoying the outdoors. A looser fit ensures you'll avoid that sticky, clingy feeling, and white is a hue that helps keep the heat from completely soaking in. Add a straw hat and sandals for a modern update.
Button-Down + Mom Jeans
For a preppy-cool ensemble, consider combining a crisp white button-down and high-waisted jeans. This ensemble is ideal for a work day when you've got evening plans afterwards. Add a pair of cool statement earrings and chic kitten heel to finish off this combination.
Summer Blazer
A tailored blazer is a piece that instantly dresses up an otherwise casual look. For summer, opt for a colorful, oversized style or something in a linen fabrication. A lightweight material will help keep you cool, even in the sun. And while the sharp look will still feel polished, a fun hue adds a summery twist.
Bright Athleisure
Whether you're planning to hit the gym or you're just hanging out, take your athleisure look up a notch by swapping standard black or grey pieces for a bit of color. Bright shorts can be worn with cool sneakers while running errands. On cooler evenings when you need an extra layer, try a contrasting pastel-hued sweatshirt to complete your look.
Pearls
Over the past year, pearls have steadily ascended the ladder of popularity, arguably becoming summer's top jewelry trend. Modern interpretations are a bit quirkier than the more classic iterations worn by Diana, but the result is similar. As a natural material, pearls add a touch of polish to a simple ensemble, but don't feel overly stuffy. Try styling a string of pearls with a puff-sleeve top or dress for an ultra-romantic combination.