These Are The Best-Selling Boot Styles From All Your Favorite Brands This Season
miista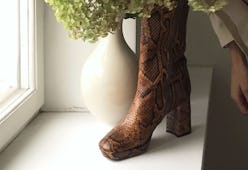 When you think of a fall wardrobe, one of the first items that likely pops into your head is a great pair of boots. And now that you'll soon be retiring your sandals to the back of the closet, it's time to sort out what boot styles you want to see in your lineup for the upcoming season. That said, if you're not sure where to start your shopping, you need not worry — the best-selling boots from some of your favorite footwear brands are just a few scrolls away.
What can you expect to see? Well, if you haven't yet noticed, snake-print boots are making a play to be a major trend for the season, and that's been made even more evident by the best-sellers shared with The Zoe Report. However, in the mix of popular styles you'll also find everything from classic black boots in modern shapes to sleek croc-embossed pairs. So, whether you're looking for minimal and understated or bold and eye-catching, there's something for everyone.
Continue on to see what styles from eight brands you love are already making waves with customers. Be sure to add them to your cart before fall arrives to step into the new season on the right foot — or rather, in the right boot.
aeydē
"We are seeing the biggest trend in squared toe boots and also animal prints for this fall/winter season," Luisa Krogmann, Founder and Managing Director of aeydē, tells TZR, adding, "our customers love our snake styles." When it comes to the brand's best-sellers below, Krogmann notes that "ankle boots are all-rounders, that can be worn every season and are the perfect addition for every wardrobe."
ATP Atelier
"Our brand is very much about contrasts and contradictions, which is also represented in the variation of our best-sellers," Maj-La Pizzelli, Co-Founder and Creative Director of ATP Atelier, tells TZR. "We're introducing a new sharp and pointy toe for fall. This cool new shape is seen on the boot Messina, amongst other styles in the collection.
"We also continue to break new and exciting grounds as far as soles are concerned. The chunky and luxurious Vibram sole, introduced last fall, is developed further with the boot Catania." However, it's not *just* about style: "Comfort and wearability is something that is constantly 'on-trend' for ATP Atelier," Pizzelli goes on to share. "As with the majority of all our pieces, both boots are in our signature sustainable materials, vegetable tanned vacchetta and metal-free nappa."
By Far
"We believe ankle boots are still strong this season," Valentina Bezuhanova, Co-Founder of By Far, tells TZR. "They're the perfect match to any jeans!" Some other defining factors of its popular styles? "Both Sofia and Becca boots are super slick and fit like a glove," she explains. "They're super cool and super comfy at the same time."
Labucq
"My focus has consistently been on wearability, comfort, and fashion. I always want my customers to feel chic in our boots and for it [to] be an exciting fashion purchase for them, while at the same time to be able to wear them over and over with ease," explains Lauren Bucquet, Founder and Creative Director of Labucq. "Boots are most often investment buys and I want to make sure ours live up to that," she says. "We have many repeat customers — once they fall in love with one pair, they often come back for a new version or colorway because they know they will get equal parts fashion and quality."
As for the boot trends she's seeing for fall? "Snake prints, wearable block heels, square toes," says Bucquet. "I'm also really excited about sneaker-boot hybrids as a new winter boot option — our Suba Boot, which will be launching in November, is the Labucq version of this trend — it's super functional, but also chic."
Loeffler Randall
"I'm loving that tall boots are back! I started my line 15 years ago with a tall boot and it makes me happy to be designing them again. I love wearing tall shaft boots with skirts and dresses," says Jessie Randall, founder of Loeffler Randall. "Other trends we are seeing are the western trend, exotics, the color brown being very important, and stretch. Anything we design with a stretch leather sells out!"
As for particular styles? "Our Aylin cowboy in dark brown croc-embossed leather is our best-seller along with our Goldy boot in Italian cognac vachetta. Both are easy to wear with lots of different things and can become wardrobe staples," Randall explains. "Our most popular style year over year is our Isla bootie and our customers are loving it in stretch snake-embossed leather."
Miista
When it comes to fall boot trends, Miista's Founder and Designer Laura Villasenin is seeing a few you've probably noticed, too: "Croc-embossed leather, square toes, and white patent leather." She tells TZR that the brand's best-sellers have been popular with customers because they're "comfortable yet modern and stylish," and, she adds, "you can wear them with anything!"
Reike Nen
"Two huge trends that we are still going to be seeing this fall (and even in the spring 2020) are the snake print and the western-inspired styles," says Karina De Jesus, who is the founder of Haus Agency and handles all wholesale for Reike Nen in Europe, the Americas, and Australia.
"Our most popular styles incorporate both trends but in a unique and fresh way — Reike Nen does snake but also offers it in an unexpected color way," she explains. "The String Embroidery Slim Boots are western inspired but still sleek and neutral enough to appeal even to a more timeless dresser."
Wandler
"I think the pointed-toe trend is really strong this season," says Elza Wandler, Founder and Designer of Wandler. "Next I think it's summer's special appearance, the sharp, geometric square-toe profile, that is here to stay for fall." And in terms of the brand's popular styles, it's all about the Isa Boot, which, in Wandler's words, "is the perfect classic boot — it's sleek in style, comfortable, has height but also has a modern square toe."