4 Sandal Trends Every City Girl Is Wearing This Summer
@taylranne On Instagram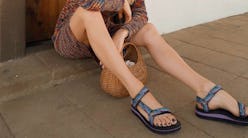 One of the very first things you'll notice when you move to (or visit) a big city is the sheer amount of walking required to get around each and every day. Whether you're strolling a mile in the morning to work, hopping on the subway, or even trying to track down a taxi, metropolitans typically call for one kind of heavy duty commuting or another. As such, it only makes sense that comfortable footwear is constantly top of mind and now that it's summer, tracking down the very best sandals for walking is a priority. But what to buy, you might ask?
There are a few things to keep in mind as it pertains to sandals in the city. First and foremost, safety should be top of mind. Though it may sound silly or overly cautious, the possibility that you'll come across something like broken glass or a murky mystery puddle is sadly very high, which means if you're walking around with your bare feet exposed, you'll want to make sure there's at least something protecting them. Next, since sneakers are usually the most supportive option, if you're foregoing your trainers and slipping into sandals instead, think about which options provide more support than others. Lastly, have fun! Summer sandals are one of the best ways to accessorize your favorite floral dresses and denim cutoffs and there are plenty of options out there to do so with. Ahead, see which sandals trends are best suited for city life and shop the picks to add them to your wardrobe.
Sporty "Tourist" Sandals
Whether it's Tevas, Birkenstocks, or something more akin to Marni's cult-favorite style, a pair of "tourist" sandals is where it's at this summer — especially if you live in the city. This footwear trend du jour offers premium comfort, and thanks to their recent rise in popularity can be effortlessly dressed up or down depending on the situation. Go on, live your best tourist-inspired life with no regrets.
Buckle, Elastic, Or Velcro Sandals
Sandals with Velcro, buckle, or elastic details feel similar to tourist sandals in the sense that they're typically a bit chunkier, however if you don't want something quite as sporty as the aforementioned, then simply look for details that ensure your shoe will stay put while you're running around town.
Slingback Sandals
Simply put: Your shoes need to stay put. That's why a pair of slingback sandals is a smart choice, as the extra strap helps keep your foot from slipping out. There's nothing more embarrassing than crossing a sidewalk and having your shoe leap out in front of you — nothing.
Platform Sandals
You may have been hesitant to participate in the resurfacing of this '90s classic, but rest assured you'll also be doing good by your feet. Thanks to their added height, if you're wearing a pair of platform sandals in the city then the likelihood of your toes touching anything unsanitary is low.