These Are The Best Brands For Plus-Size Jeans, According To 8 Influencers
@iambeauticurve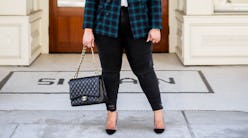 The perfect pair of jeans is the holy grail for most women. It's a never-ending quest to find The One: a pair that has good pocket placement, doesn't gape in the back or cut in at the waist, and is just the right length for your legs — preferably without needing to be tailored, because who has the time for that? Sadly, the pursuit of perfect-fitting denim more often results in discouragement and emotional exhaustion than any semblance of a satisfying purchase. Such elusive blue jean gems are few and far between, and the options are even more limited if you're a curvy or plus-size woman seeking your best jeans. And, many brands fail to offer a complete size range to accommodate all body types, and even fewer dedicate the extra attention to customizing details and fit specifically for fuller figures.
The fashion industry has been regrettably slow to get on board, but things do seem to be shifting towards greater inclusivity. The cult-favorite brand Reformation, for example, has recently taken steps to cater to more women by adding extended sizes (14 to 24) in some of their most popular jean styles. Khloé Kardashian's denim venture, Good American, taps into cool-girl trends like lace-up details and slit hems, with all styles available from size 00 to 24. Warp + Weft is another label that sizes its entire collection for petite 00 through plus 24. The sustainable fashion brand tests each style multiple times on women of all ages and sizes, and incorporate their feedback to ensure the best possible fit and the most flattering design details.
As anxiety-inducing as jean shopping can be, it's helpful go into it knowing which brands are doing it right when it comes to designing for all shapes and sizes. Ahead, eight of our favorite body positive style influencers share their go-to brands for size-inclusive denim that checks all the boxes: comfortable, well-fitting, and cute. Arm yourself with this list before you so much as think about buying another pair of blue jeans.
Katie Sturino
"I love Warp + Weft because they make classic styles, but they are also on trend for things like wide-leg jeans. It is female-owned and the price point is good too! Good American fits really well. It's hard to find jeans with stretch in them that don't feel cheap, and I love their jeans. Worth it!" — Katie Sturino
Gess Pugh
"I'm a huge lover of LOFT denim, everything from their design to their fabric selection is amazing. Their jeans are perfect year round — not too thin for the winter or too thick for summer. I also appreciate that they provide a variety of styles to keep up with current fashion trends. Most importantly, they are comfy." — Gess Pugh
Rochelle Johnson
"My favorite size-inclusive denim brands are Warp + Weft and Madewell. Both carry great quality denim that is also comfortable. A lot of brands compromise style when it comes to the extended size offerings, and neither of these brands do that." — Rochelle Johnson
Ali Tate Cutler
"My fave jeans brand is Levi's — always has been, always will be. They're classically cool, and although the sizes really change from style to style, once you find your jean, that's you forever. My day-to-day outfit is a Levi's mom jean, a crop top, and some vegan Doc Martens. Effortless and cool." — Ali Tate Cutler
Essie Golden
"I have three favorites: Old Navy, Lane Bryant, and Good American. Old Navy's Rockstar jeans are incredible and super adorable. No gapping and hug every sin god curve. Lane Bryant jeans are simple but the quality is amazing. They go up to a size 28 — most jeans stop at a 24. Good American jeans are worth every single penny. They have a sculpting and lift technology that's really awesome. They make my butt look like I do squats everyday." — Essie Golden
Kelly Augustine
"My favorite brands for denim are Lane Bryant, Warp + Weft, and NYDJ. I find that these three brands in particular really care about fit, and really, really care about the plus customer. And their fabrics are top-notch. I have jeans from each brand that have lasted me forever." — Kelly Augustine
Bree Kish
"My favorite brand of jeans are honestly Fashion Nova. Anyone who knows me, knows I live in dresses and skirts, but if I am going to dig into my closet for some jeans, it's going to be Fashion Nova. They have an incredible size range, style selection with various washes, and most importantly, they're HIGH WAISTED!" — Bree Kish
Ilianna Ayala
"For a long time, jeans were very uncomfortable for me, therefore I sticked to leggings. But when brands started extending their sizes, I gave jeans another try. I love brands like VIM Vixen, Forever 21, JunaRose, and Charlotte Russe. They offer the perfect fit as a plus-size woman. I prefer skinny jeans with a slightly high waist — it allows me to show off my curves." — Ilianna Ayala