Here's How To Finally Find Your Perfect Jean Fit, According To The Experts
Saira MacLeod/REX/Shutterstock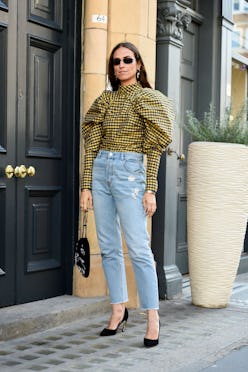 Each season ushers in new trends for us to try, but the one item that will forever be a coveted staple in your closet is a great pair of jeans. Equal parts timeless and versatile, jeans are a wardrobe staple that stay in heavy rotation, whether they be classic skinnies or a newer iteration like wide-cuff and boy-fit. But buying a pair of jeans that actually fit just right can be a frustrating task. Whether the waist doesn't sit quite right or the backside feels saggy, it can take countless hours of trying on duds to actually find a pair that works for you. But, when you finally reach the end of the seemingly never-ending journey, the moment you put on the denim that checks off every box on your list, all of the time and suffering feels worth it.
Sean Barron, Co-Founder of denim brand RE/DONE explains that as frustrating as it is, the only way to find your best fit is to try on a variety of denim. "I don't think there is a perfect fit for everyone," Barron says. "It's based on body type. Be open to trying on a bunch of jeans from different brands."
"It's tough to find the perfect pair of jeans for a lot of people because we are in a culture of instant gratification," says Dana Kelly, the founder of textile and dye studio Warp and Weft Dye Co. "We get frustrated when we have to search long and hard for exactly what we're looking for, it takes a while to find the perfect fit in a stunning wash."
But a little expert help can alleviate the stress, at least in part. Having a few clues as to what to look for allows you to hone in on the best jeans for you. Below, find advice — from how to measure your inseam, to the secrets of stretch — to help you in your search. While it may take some testing to find your perfect pair, you'll know exactly what to look out for.
Feel It Out
Understanding the type of denim and how much stretch you prefer is the first step to finding a great fitting jean. "[The] majority of jeans work best with a 20 to 40 percent stretch range," Kelly says. Denim ranges from super stretch, containing 92 percent cotton or less, to comfort-stretch, to non-stretch, [which is] purely 100 percent cotton. "Super stretch denim is going to be the most comfortable, but might not hold the structure of a high-rise jean well over time," says Marianna Lomsinko, denim specialist of label 3x1's custom service Bespoke. "Authentic non-stretch denim will not be the most comfortable initially, but will stretch over time, contour or mold to your body, and is easier to repair and perform alterations on." If you're looking for an in-between, look for comfort-stretch denim.
Quality Check
Consider jeans an investment piece, according to Kelly, they should last at least five years. "It's often worth the investment to pay a little more for a longer lasting product," Kelly explains. To ensure your denim will hold up, Kelly recommends a test: "Try a jean on, and when you take it off check to see that the fabric has relaxed back to its original shape. Cheap spandex often bags out, meaning the stretch in the fabric doesn't reshape itself after each wear, causing the jean to look stretched out in areas with greater push and pull like your butt and back thighs."
Measure Your Inseam
The inseam, which refers to the measured length between your crotch and your ankle, is one of the most important — and easiest — factors in determining the right fit for you. Lomsinko suggests using a tape measure to accurately get your inseam measurements. "Every person has a different inseam, [so] height and body type do not always determine this," Lomsinko says. "Two people can be the same height but have different length legs." To measure your inseam, Lomsinko recommends a general rule of thumb: a 32 to 34-inch inseam is usually ideal for longer legs, an average 30-inch inseam fits most and can be cuffed, and a 27-inch "crop" inseam works best if you're petite or want to show off a little ankle.
Check Your Pockets
You're already accustomed to the standard five jean pockets — two front, one coin, and two in the back — but are you checking the size of those back pockets? "We like our pocket to sit right above the crease of the bottom to really make your backseat look slimmer and more lifted," says Jac Cameron, co-founder and creative director of denim brand AYR. In fact, the bigger the pocket, the more shaped your backside will look. Barron recommends looking at the yoke — the waistband in the back of your jeans above the pockets. "Yoke size is really important," Barron says. "When you look back, the yoke should be in a 'V' shape, not straight or round, so it goes into a point." Barron explains that a more pronounced V-shape creates a curvier shape.
Use Your Hands
While a waistband size may seem like just a number, you always want to ensure the right fit for you. "When I try on a pair of jeans, one of the first things I do is put my hand down the back," says Amy Leverton, author of Denim Dudes and owner of a denim consulting company with the same name. "You don't want to be able to slide your entire hand in your waistband. It's really simple, but the less you can get your hands down there, the better." The cut of the waistband also plays a part in the fit. Lomsinko suggests opting for a "two-piece, contour, constructed waistband" that is cut on a radius rather than a straight line like a traditional waistband is. "The advantage is in the way it contours to the curves of a woman's body, reducing the gape at the small of your back, and flattering your silhouette."