5 Sustainable Sweaters Created By NYC's Next Up-And-Coming Designers
Shutterstock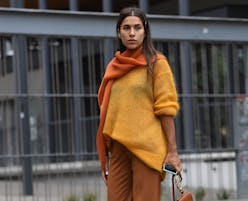 Sustainability is a topic of conversation that's often floated around in the fashion industry, and for many brands, incorporating sustainable practices into design — especially at scale — can be a challenge. But as part of the CFDA and Lexus' fashion initiative program, five on-the-rise brands (that are also program finalists), worked on a sustainably made circular capsule collection. The collection consists of five sweaters (one from each brand) using a new Cradle2Cradle certified yarn produced with minimal chemicals and detergents. The sustainable sweaters are all designed with the idea of circularity mind, but for each brand the theme was interpreted in an entirely unique way.
"The collection was created using zero waste and showcases talented emerging designers who are setting the trend towards a more sustainable future for the fashion industry," explains photographer Alexi Lubomirski who shot acrtress Rosario Dawson along with model and CFDA + Lexus Fashion Initiative advisory board member Amber Valletta in the five unique designs. "I am passionate about supporting the movement towards a more sustainable fashion industry and believe that this program truly does inspire positive change," says Valletta via press release.
In addition to the lookbook, the designs will also be installed as part of an exhibit at the Intersect By Lexus space in NYC, designed by acclaimed artist (and Kanye West and Virgil Abloh collaborator) Oana Stănescu and running November 19 through December 14. See the five sustainable designs below, along with an how each designer landed on their creation of choice.
Cienne
"We were inspired to visually interpret the concept of 'circularity.' The circle is applied literally through shape — rounded sleeves, circular yoke stitching — yet transcends form through a circular design approach: zero-waste knitting, universal sizing, timeless black-meets-white blocking," says Cienne designer Nicole Heim.
M.Patmos
"I was thinking about the colors of the yarn in relation to the colors of humanity and how to mix them in a beautiful way," says Marcia Patmos. "Black and white in different variations and a lot of texture created from interwoven cables and braids."
St. Roche
"We approached this design brief from the perspective of circularity x 'design for all,'" notes Sue Stemp. "Hand crafted techniques are a hallmark of St. Roche, and we were inspired to hand embroider a Bengal Tiger in the same clean knitting yarn used in the sweater, creating an heirloom quality garment. Nature is a constant design inspiration and the Bengal Tiger is close to our hearts, being a native of India where we manufacture and an endangered species."
Studio One Eighty Nine
Explains Abrima Erwiah, "We are inspired by the easy natural essence of tropical culture and the interweaving of various cultures that have connected with africa as they have migrated and immigrated throughout the continent and around the world."
Whit
Whit founder Whitney Pozgay says, "Our goal was to create a garment that was seamless and versatile. We wanted to show pattern through texture and keeping circularity in mind, design for easy deconstruction at the garment's end of life."