Glitter Polish & French Manicures Dominated The 2020 AMA Nail Scene
Emma McIntyre /AMA2020/Getty Images Entertainment/Getty Images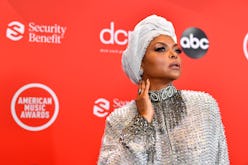 Sparklier-than-ever dresses reigned over the red carpet of Sunday's 2020 American Music Awards, but nail enthusiasts would have been captivated by the resplendence at people's fingertips instead. Complementing the evening's markedly glitzy motif, glitter and metallic manis were the overarching theme — no doubt a foreshadowing of the predictably showy season ahead.
Hardly a single attendee was without at least a sprinkling, if not a total dousing, of shimmer: Eyelids were adorned with thick glitter flakes, diamonds and sequins were in abundance. Entire gowns were made of the stuff. And as for nails, many were an equally opulent finishing touch.
The holidays habitually incite a storm of sartorial sparkle and the November 22 awards show was a large-scale example. This year's AMAs saw DIY nails, letter nails, simple nails, and no shortage of classic French manicures. Some of the best displays of the evening, ahead.