These 5 Eyeshadow Palettes Are The Stars Of KKW Beauty's Extensive Range
@kkwbeauty on Instagram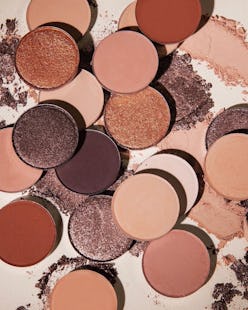 When Kim Kardashian launched KKW Beauty with a line of contour kits in 2017, every last one of them sold out within three hours. When she launched the Mrs. West collection, inspired by her famous bridal look circa-2014, it sold out in a staggering *7 minutes* — faster than you can blow out your hair in the morning. The makeup mogul has had some hits (highlighter in a stick) and some misses (the entire Classic collection, according to some). Here are the best eyeshadows palettes to come from the KKW Beauty line.
One of Kim K.'s most controversial beauty launches ever was the Classic Eyeshadow Palette she introduced in 2018. It comprised 10 neutrals — seven matte, three metallic — that some people thought were boring. Kardashian's signature beige just wasn't going to cut it; people wanted color!
So she listened, subsequently dropping an updated version of the Classic Palette, this time with vivid pinks, matte mauve, and purple tones. The Classic Blossom Eyeshadow Palette was an immediate hit and still is, amassing the most five-star ratings of any other KKW Beauty palette on Ulta.
The brand's five most-loved eyeshadow palettes, ahead.