9 Makeup Removers That Take It All Off
Ivan Lattuada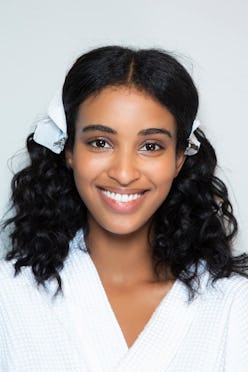 We've all been guilty of coming home after a long workday or late night out and hitting the hay without removing our makeup. Usually the morning after committing this skincare sin, we wake up to regret—and a face full of smudges. It's time to turn over a new leaf and start your day with a fresh face and clean conscience. We tapped Team Zoe for their wealth of product knowledge in the cleansing department. Ahead, shop makeup removers for every level of busy (and lazy).
Bare It All
"This cleansing oil is super gentle, and I love the texture. I use it to take off my makeup before washing my face with a cleanser, so my skin gets squeaky clean."
—Allie Flinn, Associate Lifestyle Editor
"I don't really use makeup remover; I just wash off with cleanser. But when I'm in a pinch, these on-the-go wipes are perfect."
—Laura Lajiness, Fashion Editor
"I tend to gravitate toward waterproof mascara and long-wear cherry-red lipstick, which means washing my face at night is a nightmare. This gentle makeup remover is awesome in that it literally takes it all off with very little effort, so I'm not left with the remnants of last night's makeup all over my pillow or face."
—Angela Melero, Managing Editor
"These are the only facial wipes I will use. I have thin, sensitive skin, so I need something that's gentle yet effective in removing all the dirt, oil and makeup (especially after a night out when I have layers of it on) without leaving my skin feeling tight and tingly. These do the job and they're perfect for traveling, too!"
—Amy Lee, Fashion Editor
"This rinse-free lotion removes all traces of makeup without stripping my super-sensitive skin. It's particularly clutch for me in the winter and when I'm traveling."
—Nicky Deam, Editorial Director
"Rarely do I go to bed without washing my face, but that's the last thing I want to do when I get home at 4am. Fortunately, all I need are these wipes, which remove not only my makeup but also the dirt, oil and other nasty stuff that accumulates after a night on the town."
—Samantha McDonald, News Editor
"My dermatologist told me not to use this every day because it can be drying, but I love it so much and it totally cleared up my skin. It's what I use when I'm too lazy to wash my face."
—Erin Nicole, Lifestyle Editor
"I'll admit that when I do wear makeup, I wear a lot of it. These wipes are great for removing heavy foundation, concealer and even waterproof mascara after a long day."
—Andrea Navarro, Associate Beauty Editor
"I've never had a makeup remover completely melt off my makeup the way this cleansing balm does. The best part is that it's extra gentle, so I don't find myself tugging at my skin, but it's so effective that it can wipe away even the most stubborn mascara."
—Stephanie Montes, Beauty Director