Ditch Your Classic Red Lipstick For This Shade On New Year's Eve
Melodie Jeng/Getty Images Entertainment/Getty Images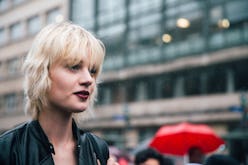 New Year's Eve isn't just the time to celebrate the year's accomplishments (or in this case, the decade's best moments). It's also the time to pull out all the stops with your look: to wear that obnoxiously sequined dress that doesn't make sense for a wedding; or to throw on that oversized suit that's too much for the office; or to finally break out that column skirt that stills needs a little extra something. For this NYE, make that extra something a bold, glittery lipstick — the best way to make your look stand out from the rest. And no, we don't just mean the frosted, '90s-era glittery lipsticks. Instead, think a deep red shade with a slight sheen, or a super-feminine hot pink lipstick that boasts a pearlescent finish.
"I'm still a sucker for a true red during the holidays," says celebrity makeup artist Neil Scibelli, who agrees that while "you can't go wrong with a classic red lip for New Year's," that it's a good time to consider test-driving a more striking look, like a true red with a few glittery flecks. If you'll be attending a fancy event with a strict dress code, then pick a lipstick as elevated as your dress, like one from Pat McGrath's BlitzTrance Lipstick collection. (Scibelli suggests Blood Rush, a classic red with copper pearl.)
On the other hand, if you evening is looking a little more relaxed, choose a lipstick that's simultaneously subtle and exciting. A glittery nude shade, like Charlotte Tilbury's Pillow Talk Lipstick in Pillow Talk Diamonds, is the way to go. The best-selling shade will be the perfect addition to a natural makeup look.
Ahead, find 10 glittery lipsticks to ring in the new year with.