The Trendy Fall Getaway That Can Help You Reconnect With Your Partner
Shutterstock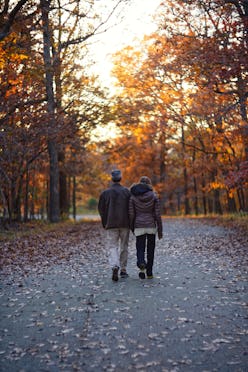 With tourist traffic dwindling, travel prices decreasing, and chilly evenings that are perfect for getting cozy, this time of year is ideal for planning a romantic trip for two. Better yet, some of the best fall vacations for couples are great for last-minute getaways (so if you haven't booked yet, it's not too late).
If escaping the realities of everyday life with your S.O. seems like an unnecessary indulgence, think of it as an extended form of couples therapy. "I am a warrior for romantic getaways with your sweetheart," says Mollie Krengel, founder of Wild Bum, a resource for curated travel guides. The wife and mother says that she and her husband have "prioritized travel sans kids" in order to maintain the spark in their marriage — and it's a decision they've never regretted. "Keeping those intimate juices flowin' is never easier than when [you're] away from everyday responsibilities and stress," she points out. "Studies show that couples who travel together have better communication skills, share experiences that broaden perspective, and are even said to have a good sex life; travel is the gift that keeps on giving."
Ahead, three travel experts share their top picks for couples looking to get out of town this fall. Whether you choose to explore a scenic city, set sail on an exotic cruise, or commune with nature on a glamping retreat, consider enjoying some time away with your honey before the chaos of the holiday season begins.
1. Road Trip Around San Francisco (& Beyond)
Krengel, a world-traveller herself, cites this California hot spot as one of her all-time favorite romantic getaways (get the scoop in her Ultimate Guide to San Fransico). The reason? In addition to culture, attractions, and lots (and lots) of amazing food, it's within driving distances of several other must-see destinations. "San Fran never goes out of style, and in [my] opinion, is one of the best places to stay up on the trends with your honey," says Krengel. "Fall is an amazing time of year to visit San Francisco. The weather is beyond comfortable; US News declared September through November as the best time to visit."
Some of her top suggestions: "Get that clear, epic shot of the Golden Gate Bridge while enjoying a romantic picnic on the beach; rent yourselves a convertible and visit Healdsburg (hello romance!), Napa, or Point Reyes as easy side trips. Have more time? Head down the coast for the majestic road trip that is sure to rekindle that fire!"
2. Plan Your Bucket List Trip To Bora Bora (By Boat)
Bora Bora on the bucket list? Colleen McDaniel, the editor-in-chief of Cruise Critic, says an autumnal cruise to the island is the best way to go. "Recently named one of the most popular cruise destinations based on traveler reviews, Bora Bora is generally more budget-friendly when you're visiting the region via cruise, as visiting by land is also pretty costly," she explains. "October is a great time to visit, as weather is a bit less rainy and is more favorable." Bonus: You'll see other tropical locales along the way, and all without the stress of planning your own itinerary.
"The most popular small ship cruise line in the region, Ponant, offers a 9-Night Treasures of the Polynesia itinerary, spending two days in Bora Bora, plus stops including Papeete, Tahiti, and Moorea, French Polynesia," she shares, adding, "The October 25th sailing currently starts at $5,160 per person."
3. Immerse Yourself In The Mountains Of North Carolina
As it turns out, treehouses make romantic accommodations for two. This is good news, because even if you've only got time for a short getaway, you can plan a glamping weekend for a digital detox and some quality time with your beau. One option: This Eco-Friendly Elevated Cabin Rental Near Ashville, North Carolina, which costs $273 per night (so an evening or two away won't cost you a fortune).
"What's better than spending your fall weekend surrounded by the ever-changing colors of autumn from the comfort of an eco-friendly tree house in North Carolina?" proposes Jessica Armstrong, partnerships manager for GlampingHub. "Perfect for you and your special someone to snuggle up and enjoy the magic of the season, guests will adore hiking through Blue Mountain Parkway, sipping hot cocoa from the deck, and falling head over heels for the nearby cascading waterfalls."
4. Tour Around Trendy Portland, Oregon
Known for its thriving art scene, stunning public parks and gardens, and abundance of food trucks (or, in local speak, "food carts"), Portland, Oregon is especially memorable in the autumn season, thanks to a backdrop of eye-catching foliage.
"Portland is a fun, trendy, and vibrant city any time of the year, but is particularly beautiful when the leaves change colors in the fall," says Krengel. "Reconnect with your boo over world-famous food, gorgeous scenery, outdoor activities, and romantic accommodations." She suggests planning your trip around The Ultimate Portland Guide, which uncovers the best hiking trails, craft breweries, restaurants, places to stay, "weird" attractions, and more — all according to a local.
5. Set Sail To Peep The Best Leaves In North America
"To take leaf peeping up a notch, take a New England/Canada cruise this fall," McDaniel suggests. "Rather than visit just one town, enjoy the convenience of a cruise that brings travelers to multiple destinations while sailing along the East Coast. Many Canada/New England cruises include Quebec City — another of the most popular cruise destinations this year — offering the romantic allure of Europe much closer to your own backyard."
She recommends Princess Cruises' 10-night Canada/New England cruise, which departs from New York and makes stops in Newport, Rhode Island, Bar Harbor, Maine, Halifax, and Quebec City. It can be surprisingly affordable, too. "Sailings are available September 24 and October 14 — right around peak leaf peeping season in the region — with prices currently starting at $649 per person," she says.
6. Get A Taste Of The Exotic (Without Leaving The Country)
No need for a passport: You can still enjoy culture without leaving the country. For $188 per night, themed safari tents on this glamping site on Whidbey Island in Washington will give you a taste of the exotic without going too far or breaking the bank. The adults-only accommodation includes two units that can be booked separately or together; recruit your best couple friends, and the four of you can spend time playing yard games, making s'mores, then retreating to your own tents.
"These themed glamping tents on Whidbey Island will create the most magical fall experience for glamping couples," says Armstrong. "Guests can choose between a worldly or Moroccan-themed tent, which will make you feel like you are miles and miles away from your everyday hustle and bustle. With stunning views and secluded beaches, glampers will love spending their fall weekends in complete seclusion and tranquility."