This Southern City Is The Best Place To Date In 2020
RgStudio/E+/Getty Images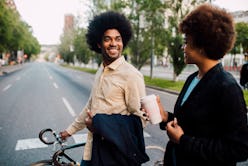 When it comes to real estate it's all about "location, location, location," and unsurprisingly, these same factors can affect your romantic life, too. Certain cities attract certain crowds, then there's the numbers game of putting the odds in your favor. For instance, ratios of gender and single-to-coupled-up folks, general living costs, and sheer population all come into play when determining the best cities to find love.
That's why WalletHub weighed these factors (and many more) for determining 2019's Best & Worst Cities For Singles list. Other stats included average date costs, nightlife options, and restaurants, coffee shops, and social clubs per capita. "Some cities are more desirable for those looking to find love simply because they offer more dating opportunities," says Jill Gonzalez, an analyst for the site in an email to The Zoe Report. "In these cities, there is a variety of recreational options and fun things to do: more restaurants, more nightlife options, but mainly, a higher percentage of single people."
While the list features 182 cities across the US, ahead, see Wallet Hub's top 10 best and worst places to be single and ready to mingle. Not in the hotspot for love? Experts weigh in on tips and tricks for dating, no matter where you are in the world.
The 10 Best Cities For Singles Looking For Love:
Atlanta, GA
Denver, CO
San Francisco, CA
San Diego, CA
Portland, OR
Chicago, IL
Los Angeles, CA
Madison, WI
Seattle, WA
Portland, ME
The 10 Worst Cities For Singles Looking For Love
Hialeah, FL
Shreveport, LA
Winston-Salem, NC
Yonkers, NY
Columbia, MD
South Burlington, VT
Brownsville, TX
Glendale, CA
Pembroke Pines, FL
Pearl City, HI
If You Live In A City That's Less-Than-Ideal For Finding Love ...
Are you "single and looking" in a city that didn't earn high ranks or (*gulp*) landed toward the bottom of the list? Steve Dean, Online Dating Consultant at Dateworking and host of the Modern Connection podcast, says not to lose hope. "There are always creative options for finding good people," he assures. "I learned this the hard way when trying to date in a one-square mile town." He suggests checking out the online dating scene, including local members on widely used dating apps as well as "unique dating subcultures" that may be popular among singles in the area.
However, "If the internet fails you, take things to the real world and check out the local cafes, co-working spaces, and community hubs, asking folks you meet what sorts of things they do for leisure [and] meeting new friends," says Dean. "Common catch-all spaces/activities include intramural sports leagues, rock gyms, running clubs, startup events, art galleries, lecture series, and bustling coffee shops."
Quin Woodward Pu, Nationwide VIP Matchmaker for Three Day Rule Matchmaking, advises using personal connections to meet potential partners. "Do your friends and coworkers know you are single and looking? Don't be afraid to ask those closest to you for help with an introduction — they want to see you succeed!"
If You're Moving Someplace New ...
While finding your soulmate may not be reason enough to relocate (or maybe it is?) those looking for a long-term partner should consider this when seeking a change of scenery. "There are many factors that affect your ability to find love, and plenty of them are completely out of your control," admits Woodward Pu. "That being said, you can stack the odds in your favor by dating in cities with a few key advantages: the size of the dating pool, economic opportunity, and culture." However, she warns, "Cities with enormous populations (NYC and LA, for example) can sometimes provide the tragedy of choice. In that case, you must prioritize your must-haves as a general starting point to make the dating pool more manageable. The key is in the segmentation of the dating population: Are the single people within your preferred age range? How's the gender ratio?"
Furthermore, she recommends finding a local culture that matches your preferences. "I say 'culture' because every city has its own style, and the key is finding the city that matches your style. DC is a 'happy hour city,' while some of my clients in Boston prefer brunch. Several of my West Coast clients would much rather have an active date, like surfing or a strolling down the Venice Beach Boardwalk."
Gonzalez adds other things to consider. "Two things should be of importance for a single person looking to relocate: social life and job market," she says. "Having various activities to choose from makes dating a lot easier. A strong job market is also key. Since the average cost of a date is over $100, it's important to have a good job to be able to afford going on dates."
If Cost Of Living Is Affecting Your Dating Life ...
More on money: While the notion isn't romantic, the reality is, dating can get pricey. "Cities with high-salary jobs will tend to have more people with the financial ability to date," Woodward Pu points out. However, those with limited budgets shouldn't let their love lives fizzle; instead, the matchmaker encourages them to get creative. "Dates don't have to be expensive, but they do have to be thoughtful. Fifty dollars in Washington, DC — one of the most expensive cities in America to buy a cocktail — can get you and your date two happy hour drinks each and a shared appetizer, and that's a totally acceptable first date (not to mention the perfect length of time when you're just getting to know someone). If that still seems too steep, how about a walk in a city park and cute picnic and a bottle of wine?"
Gonzalez agrees. "Even if you live in a city with fewer options for dating activities, or you're dating in a city that's not exactly affordable, you could still have a healthy social life. For example, budgeting for your dates is always a good idea so that you don't lose track of the amount of money you spend. You could also consider no- or low-cost activities, like going out for coffee, or taking a hike."
Yes, some cities are more conducive to dating than others. But at the end of the day, the most important thing is to seek opportunities and seize the ones that come your way. "Sometimes, you have to be your own matchmaker," says Woodward Pu. Whether online, at a local hot spot, or being set up by a friend, "you shouldn't be embarrassed about using every opportunity available to you to meet someone new."