Last-Minute Solo Travel Deals That'll Get You Out Of Town ASAP
eldar nurkovic/Shutterstock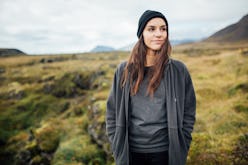 If you're ready to get out of dodge — like, now — you're in luck. It's possible to snap up some last-minute solo travel deals, so you can really vacation on the cheap (and leave behind some excess baggage, in more ways than one). There's never been a more optimum time to hit the road on your own.
As it turns out, searches for "solo travel" were up 55 percent last year according to Google, and Quin PR reports that #solotravel has over four million tags on Instagram. Needless to say, exploring the world unaccompanied is more popular than ever, made more accessible thanks to blogs, deal sites, and of course, the social media.
For the sake of effortless planning and budgeting, first-timers may want to consider taking advantage of all-inclusive packages, like at resorts or on cruises. As a matter of fact, many of these places have accommodations that cater to the single traveler.
So whether you need an escape post-breakup, you're in desperate need of some soul-searching, or you just want to see the world with "me, myself, and I," the deals ahead will help you skip town affordably — and fast.
2-Night Bahamas Cruise From Miami
If you need a quick breather, this last minute Royal Caribbean cruise deal might be just the ticket. Be prepared to set sail on March 3, and you can grab an accommodation for as little as $499 (they pick your room), with taxes and fees rounding it up to $597.
After spending some time exploring Miami, you'll head to the Caribbean island of Nassau, where you'll have access to water sports, sandy beaches, and plenty of exotic vibes.
Solo Costa Rica Vacation
If you're a true adventurer when it comes to travel, this deal put together by the TravelPirates pros is for you. For the dates March 12 to 19, you can book a flight from New York to Costa Rica on Spirit Airlines for around $285. Next, you can stay at a hostel during those same dates for about $12 a night. The beauty of this "deal" is that it's not set in stone; if dates, locations, or accommodations need to be changed, you can do so depending on your preferences and budget.
Regardless of how you get there (and where you stay), you'll enjoy some sun, sand, surf, and much-needed solace on this solo trip.
5-Day Cruise From New Orleans To Mexico
Setting sail from April 7 to 12, you can book an inside room on this Norwegian Cruise for $598; with taxes and fees, you'll be paying just over $700. While this ship has specialty studio staterooms specifically designed with solo travelers in mind — complete with perks like exclusive access to the Studio Lounge — sometimes, it's cheaper to book an interior stateroom for one.
Departing from New Orleans, the Norwegian Breakaway will make stops in tropical Cozumel and Costa Maya along way.
Stay At The Hilton La Romana In The Dominican Republic
Head to Hilton's all-inclusive La Romana resort in the Dominican Republic for a worry-free week of relaxation. Thanks to their current winter sale (going on through March 19), prices for upcoming dates have been slashed. One of their most affordable weeks is April 21-28, where you can snag accommodations for around $233 a night. (Note: this is a family resort, so there will probably be some kiddos there.)
Remember that food, drinks (yes, even alcoholic ones), daytime activities, and evening entertainment are included, so you can get lots of bang for your buck. If you're in the mood to indulge, head to the on-site spa for some much-deserved pampering.
Escape To Iceland
This TravelPirates pick proves that if you play your cards right (and you're willing to forfeit some frills) you can go just about anywhere on the cheap — even to Iceland for under $300. That's right, this deal to Reykjavik from New York on May 5 to 10 bundles a flight and hostel stay for just $265. Of course, you can adjust dates, accommodations, etc., but it will probably affect price. Just make sure to do your research, and you should be able to stay on a budget.
Iceland is perfect for nature lovers, so plan on exploring the natural beauty, and of course, soaking in a hot lagoon.