The Quick-Drying Nail Top Coat With More Than 1,100 5-Star Reviews At Ulta
Sally Hansen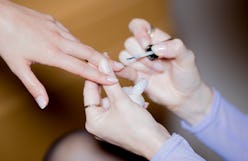 Any self-titled lacquerista will tell you that your manicure is only as good as its top coat. It doesn't matter if you spend an hour perfectly applying your selected nail color — one fell swoop 10 minutes later and the polish will be smudged, or worse, chipped. While you're no doubt already well aware that you should be taking the time to swipe on a layer of protective gloss, the best nail top coats may actually make your manicure look even better than it did before; but you have to know which ones to buy.
That said, there is one formula that rules them all according to the internet: Seche's Seche Vite Dry Fast Top Coat. Retailing for $9.95 at Ulta, the top coat has a formidable 4.6-star rating from over 1,500 reviews; nearly 1,200 of those reviews give it a perfect rating. Though the Seche Vite top coat has been a patent-protected product since July of 1992, the polish became a viral cult sensation via online nail polish discussion forums like Reddit's RedditLaqueristas.
But why did the little bottle get a huge fan following? The formula is long lasting and quick to dry, and creates a gel-like barrier without speciality lighting tools. And because Seche Vite is so thick and powerful, the top coat also fills in dents and smudges you may have created in your nail polish in the few minutes after you painted them. In so many words, it's like a professional gel manicure in a bottle, for under $10.
While Seche Vite's thickness may be exactly what you're looking for, many nail polish aficionados steer clear of it for that very reason, preferring a thinner formula like the Poshé Super-Fast Drying Nail Top Coat (an award-winning $7.29 product) or the Sally Hansen Insta-Dri Top Coat ($5.99, with high ratings all over the web). The Sally Hansen Color Therapy Nail Polish line itself has 800 5-star reviews on Walgreen's website, and only retails for $8.79 a bottle.
So, which top coat should you use? Keep scrolling down to browse a handful of highly-rated choices, and make sure to click through and read what reviewers have to say about the consistency of each product; only you know if you want your nails to look au naturale, or if you want friends to ask when you started getting gel manicures.