Where To Buy The Best Nail Polishes From The Oscars Red Carpet
Richard Shotwell/Invision/AP/Shutterstock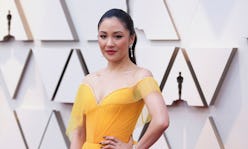 The 2019 Oscars red carpet was filled with enough fashion and beauty inspiration to get you through the rest of the year. From bold new haircuts and colors to fresh eyeshadows (looking at you, Laura Harrier) to beautiful pink gowns, there certainly was no shortage of ideas to pull from the next time you're in a dressing or makeup rut. But, once you're done fawning over the more obvious facets of each attendee's look, it's time to turn your attention to the nail polishes at the 2019 Oscars, because a swipe of lacquer is just as important as a swipe of lipstick.
Prior to hitting an event as big as the Oscars, most celebs make an effort to pencil in time with their hairstylist (case in point: Charlize Theron's freshly dyed brown hair), book an appointment with their facialist, and make a stop at the nail salon to freshen up their manicures. While the latter often goes unnoticed at first, the power of a good polish is undeniable, as it has the ability to round out an entire outfit in an instant.
Just take Constance Wu as a prime example. The Crazy Rich Asians actor walked the red carpet in a canary gown that perfectly channeled Cinderella. And while her muted-red pout was a great contrast to the poppier yellow hue, it was her blood-red nails that proved unbeatable. They added just the right amount of grungy edge to her otherwise soft, romantic look for the perfect juxtaposition.
Ahead, The Zoe Report highlights all the best nail polishes from the 2019 Oscars red carpet, from the classic to the bold. Shop the exact shades worn by Constance Wu, Lady Gaga, J. Lo, and more, below.