Where To Shop The Best Lipstick Shades From The 2019 Oscars
David Fisher/Shutterstock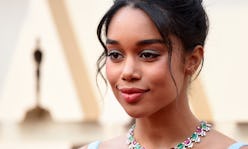 The mother of all awards shows is finally here to provide you with enough inspo to last until next year. Just when you thought you had seen all the best looks of the season, Hollywood's fashion crowd pulls out all the stops for the final red carpet. These 2019 Oscars lipsticks are the easiest way to recreate your favorite style moments.
Nothing brings a trend to life like a red carpet — especially the Oscars red carpet, where the biggest names in fashion and beauty come out to play. Over the years, this iconic ceremony has been responsible for some pretty momentous looks (Celine Dion's backwards suit and Björk's swan dress, to name a few).
Believe it or not, lip color has been a key factor in its evolution, too. The first sighting of a colorful pout on the Oscars red carpet was on Grace Kelly circa 1955, although nobody could tell she was wearing berry-pink gloss because it was televised in black and white. And who could forget Madonna's famous Marilyn Monroe moment in 1991, when she smiled through lips brighter than the red carpet itself?
So there you have it: These lipsticks are making history (or at least just setting the aesthetic for this year). See the evening's best, ahead.