The Celebrity Instagrams From The 2019 Grammys You Probably Missed
@michelleobama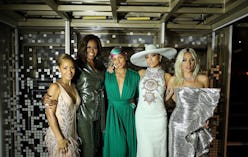 Sure, it's fun to watch the stars showing off their memorable fashion choices on the Grammy red carpet, and there are also the unique performer pairings (Post Malone and Red Hot Chili Peppers, for an especially unexpected example) to watch during the show, but sometimes the behind the scenes Instagram-worthy moments can be just as exciting — or at the very least enlightening. Whether it's their extensive primping routine or a mindful routine to get into a stress-free headspace, it's always entertaining to find out just how some of the biggest names in music get ready for the big day.
So many people love looking at Instagram as a way to connect to some of their favorite stars, and seeing how they prep for events like the Grammys is no exception. There's a lot that goes into a show like this, from picking out the most red-carpet worthy gown to the no-fail beauty tricks that give them an impossibly glowing complexion. But beyond getting a front-row seat for how their full looks come together, followers also get a chance to check out the various behind-the-curtain shenanigans you might not otherwise know about. Ahead, find a few of the pre-show sneak peeks from some of your favorite Grammy attendees this year.
Alicia Keys
Host Alicia Keys started her day with a soothing mediation session. "I just finished a beautiful mediation. I'm getting ready for a powerful, magnificently charged with positive energy day," she said in one story that showed a bit more of her process.
Jennifer Lopez
Lopez's hair stylist Chris Appleton teased her epic Grammy's look — including that dramatic ponytail — with this behind-the-scenes video that gave fans just enough of a sneak peek to get totally psyched up to see her on the carpet.
Katy Perry
Sometimes the most epic red carpet gowns beg the question, "how do you travel in that?" Perry's stylist Jamie Mizrahi showed that it truly takes a village to move a creation like the singer's Balmain dress with a snap (and a story) of her getting into and heading to the affair in her party bus. The good news is, she and the dress, made it there without any issues.
Dua Lipa
Before the show even started, Dua Lipa snagged an award for Best Dance Recording for "Electricity," which also features Silk City, Mark Ronson, and Diplo. The singer shared her emotional reaction to the news with this clip on her Instagram page.
Cardi B
Cardi's go-to nail artist Jenny Bui shared a bit of the process — and the final result — of her crystal-studded manicure. Scroll through the post to see the details.
Tracee Ellis Ross
Ross showed a glimpse of her beauty ritual, which includes de-puffing with ice globes for a "tight chin," as as explains.
Michelle Obama
As if seeing them show up on stage together wasn't enough to make you starstruck, check out the former first lady's snapshot of her huddled up with fellow icons Jada Pinkett Smith, Alicia Keys, Jennifer Lopez, and Lady Gaga. Just wow.