This Classic Hairstyle Just Got The Ultimate Red Carpet Upgrade At The Grammys
Jon Kopaloff/Getty Images Entertainment/Getty Images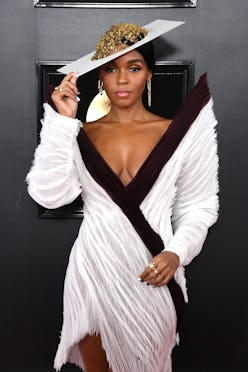 It seems the most classic hairstyle in the book just got a refresh. As witnessed on the 2019 Grammy Awards red carpet, upgrades of the traditional ponytail style were rampant. A-listers were embracing the classic look by adding their own unique spins via braids, strategically placed accessories, and some good old-fashioned fringe.
Leading the pack on the new and improved ponytail movement was none other than Janelle Monáe, who paired her long, low pony with a chunky braid and square-brimmed headpiece. The otherwise simplistic hair look was instantly elevated by the gold netting (seemingly made up of safety pins), which delivered a truly unique and utterly polished effect.
Also noteworthy was Ashlee Simpson, who opted for a long, sleek low ponytail that was broken up with silver hair ties. The glam look read very '70s, especially since it complemented a bedazzled jumpsuit with feather detailing. Simpson's style only solidified the fact that hair accessories are here to stay for not just award season, but the rest of the year. Hair bows, barrettes, and headbands have been mainstays on award show red carpets and don't seem to be losing steam.
Camila Cabello, whose Brigitte Bardot-esque ponytail was absolutely show-stopping, also went for the low-pony look. Her soft fringe and wavy style delivered the ultimate French-girl vibe. The wrapped base made the ponytail look especially effortless and easily emulated.
Last but certainly not least was Jennifer Lopez, who is no stranger to an iconic Grammys look. Although she wasn't in a plunging Versace gown, the multi-hyphenate talent still made quite the entrance. Lopez took a page from Monáe's book with a sleek low ponytail topped off with an oversized, wide-brimmed hat that matched her jeweled Ralph & Russo gown. Leave it to J. Lo to make a red carpet splash like no other.
Now, that's not to say ponytails didn't hit a high note on Sun.'s red carpet — they definitely did. Stars like Eve and Maren Morris pumped up their ponytails for a vibrant and fresh feel. For her part, Eve chose to go the half-up route with a textured updo that felt vibrant and fun. Morris went all up for her pony style, leaving it a bit wispy and undone.
The beauty of all these looks is that there's not much needed to recreate any of them. For a sleek pony, some hair gel and a chic hair accessory or two will make the look complete. For a more voluminous look, try a volume-enhancing foam and texturizing spray to add some oomph to your hair.
Feeling inspired? Get your fill of the red carpet trend by taking a good look at all the ponytails that graced the Grammys red carpet this year, ahead.
Janelle Monáe
Ashlee Simpson
Camila Cabello
Eve
Jennifer Lopez
Maren Morris