The $38 Towel That Gives Me Kourtney Kardashian-Level Hair
Roxy Rodriguez / @rocksea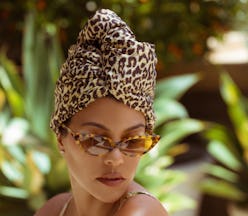 The same way everyone has a Sex and the City character they identify with, everyone has a Kardashian-Jenner soul sister. I am a Kourtney: I'm all about safe, clean beauty products, and I don't think anyone should have to sacrifice style in pursuit of safety. So naturally, when my girl Kourt unveiled the new AQUIS hair turban, a collaboration with her lifestyle brand Poosh, I hit "Add to Kart" — or, uhh, cart — mere minutes after launch. The product is essentially a luxe-looking, leopard print turban designed to dry hair at super-speed, without the damage of traditional towels or blow dryers — and it's the key to getting the healthy, shiny hair of a Kardashian.
How do I know this? Because long before Poosh's collaboration with hair care brand AQUIS was a thing, I was a fan of the classic Rapid Dry Hair Turban, which utilizes the exact same hair drying technology. My hair is noticeably stronger and longer because of it. It all comes down to Aquitex, the material AQUIS uses in lieu of cotton or terry cloth. "Aquitex is the first drying technology that dries hair quickly, correctly, and evenly," Britta Cox, the founder of AQUIS, tells The Zoe Report. "It was inspired by moisture-wicking technologies used in high performance sports."
The idea here is that your hair is more susceptible to damage when it's wet. Think about it in terms of fingernails (which are made of protein, just like your hair): Salons soak your nails pre-mani because it makes them easier to clip and file. Similarly, wet hair is easily snagged and broken. "This is where our Aquitex comes in," Cox says. Clinical trials have shown that the patented material cuts drying time by a full 50 percent, without roughing up the hair cuticle (like traditional towels) or contributing to heat damage (like blow dryers). "In drying your hair quickly but without any friction or heat, you are actually saving your hair and contributing to its health," Cox explains. "We've seen differences in drying time, hair strength, and overall shine," the Poosh team noted in a press release. I can attest to that: I have less frizz, less tangling, and fewer split ends now that Aquitex is in my life.
All of the above is true of any of the AQUIS turbans — but the AQUIS x Poosh version has a few unique touches. While the inside is all Aquitex, the outside is executed in a silky, leopard print charmeuse. "The leopard charmeuse fabric is not only luxurious but multi-purpose, too — it can be turned inside out to protect hair while you sleep," the team said. "We chose the leopard print because... who doesn't love leopard print?!" Kardashian added. "I personally love mixing leopard with floral and solid colors. Leopard is basically a neutral, the earth tones go with everything; it's universally cool." Another bonus: You can wear the leopard print turban while doing your makeup — which, honestly, is a bit of a risky move with the standard white version. "I'm not worried about getting a little bronzer on it," Kardashian said.
I've been wearing my AQUIX x Poosh turban post-shower while I do my morning skincare routine and daily gua sha massage… and also to bed, and in the pool, and just lounging around the house. I can't stop — it makes me feel like a '60s-era Sophia Loren and it keeps my hair protected. Why would I ever take it off?!
If you're also after shiny, healthy Kardashian hair or a protective fashion statement, you can shop the AQUIS x Poosh Rapid Dry Leopard Print Turban at poosh.com. Don't wait on it, though. This is a limited-edition release that's bound to sell out soon, if Kardashian's last collab — Insta-worthy Vital Proteins x Poosh collagen powders — is any indication.
Shop AQUIS x Poosh