The Prettiest Manicures From The 2019 Met Gala (Including A Few Shoppable Polishes)
Dimitrios Kambouris/Getty Images Entertainment/Getty Images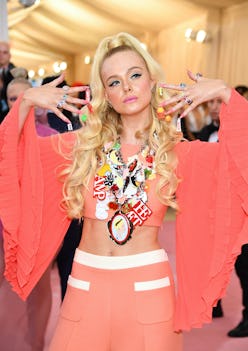 After the Oscars, there's usually a lull in major red-carpet events — until the first Monday in May, that is. Yep, what's easily one of biggest nights in fashion and beauty finally kicked off on Mon. evening — and countless looks are already sure to go down in history. From Lady Gaga's pink Brandon Maxwell dress to Serena Williams' Nike sneakers, the gowns and accessories of this year's Camp-themed soirée were, in short, super fun. But just wait until you set your sights on the best 2019 Met Gala Nail polishes — they were just as over-the-top as you'd expect.
Though it's likely your eyes immediately went to Elle Fanning's super-cute Miu Miu pants set, her charm-adorned mani proved just as memorable. Cardi B showed up with in a dramatic red gown (complete with the biggest tulle in Met Gala history), but her Swarovski-covered nails deserves equal mention, too. One thing's for sure with the majority of 2019's Met Gala manis: It was go big or go home.
Ahead, The Zoe Report rounded up all the best polishes from the 2019 Met Gala, including Elle Fanning's, Cardi B's, Kim Kardashian West's, and Jennifer Lopez's, to name a few. Beware: You'll want to book an appointment with your go-to manicurist right away after you see these perfectly polished nails. Good thing you'll have a plethora of ideas to bring along with you, though.