These Techy New Sunglasses Are The Perfect Gift For The Hiker In Your Life
@getthemirror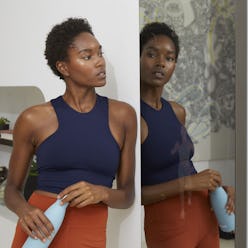 It's officially the 11th hour of holiday season and, at this point, the only people left on your list are probably the ones you've been putting off because they're impossible to buy for, right? Unfortunately, the hard-to-shop-for crew typically includes those of the fitness variety, as they usually have seen and tried it all. Memberships to boutique fitness studios and/or ClassPass? Been there, done that. The best yoga mats on earth? They have one in every color. Cool fitness-focused tech products? Now, this category might present uncharted territory you can cover this holiday season.
The beauty of gifting something techy is that these types of items are things that people put on their wish lists but never get around to actually gifting themselves because they seem like luxuries more than necessities. This means you end up being the hero as you are presenting them with an aspirational and indulgent thing that also aligns with their niche interest (so it shows you care and pay attention).
And, luckily, these days, the fitness gods are bountiful in their fitness tech offerings, and no stone is left unturned. Chic sunglasses with built-in headphones for the hiking enthusiasts, workout-monitoring rings for, well, everyone, and even hydration-tracking water bottles for the cardio lovers and yogis — there's literally something for every type of fitness fanatic on your list.
So get ready to breathe a sigh of relief as you cross those final names off your list. The following 10 techy fitness gifts are about as cutting edge as it gets.
Yes, these brand-new glasses feature chic, versatile frames, but it's the technology that's really making moves … literally. Bose's latest eyewear launch (available for pre-order now, with product shipping January 2019) features exclusive technologies and custom speakers that allow you to experience rich, immersive sound while everyone else around you hears nothing. They're perfect for the hikers, outdoor runners, and just plain active people in your life.
Added bonus? The frames are made from super durable materials so they won't scratch or break easily. Yes, please.
Featuring a sleek, subtle design, Motiv Rings deliver a well-rounded view of your health. Activity tracking, heart-rate monitoring, and even sleep detection are all included in this tiny little accessory. And you don't have to lift a finger.
For your loved ones who always seem to be training for a marathon or Crossfit competition, this high-tech water bottle will put you at the top of their "favorite" list. Here's how it works: The bottle literally syncs to your smartphone and automatically tracks your water intake all day long. So, you don't have to keep mental notes of ounces or cups ever again.
The runners on your list are going to be so happy. Each lightweight, comfy pair of these sneakers is designed with breathable technology for the smoothest run ever, as well as digitally connected Record Sensor capability that tracks, analyzes, and stores virtually every running metric you clock in.
The world's first nearly invisible, interactive home gym, Mirror streams a wide range of live and on-demand content for every genre — yoga, HIIT, boxing, etc. — all of which is curated for individual goals or moods and led by a team of expert instructors. Oh, and when it's off, it's just a sleek full-length mirror that suits any decor.
Gone are the days of bulky, unmovable treadmills that collect dust in the corner of your office or living room. Treadly now holds the title of thinnest mobile treadmill on the market, weighing in at 64 pounds and measuring just under four inches thick. This means you can fold it up and move it wherever you want — your office, bedroom, backyard, etc. — and, more importantly, store it away just as easily.
This hand dandy watch has all the bells and whistles of a smartphone — music downloads, streaming services, contactless payment capability, heart rate and activity tracking — without the hassle of a gym bag, fanny pack, or even a wallet. You literally just have to throw on your watch and headphones and go.
Instead of a professional coach tracking and guiding your runs, this cutting-edge device delivers one to you digitally. This clip-on tracker monitors your sprints and provides real-time feedback and coaching to help you progress and improve.
Wireless headphones are always a crowd-pleaser for fitness enthusiasts, and this pair might be the cream of the crop. Not only are they sweat-proof and designed for optimum comfort, but they also allow for customizable sound and can be tracked through the Jaybird app should they go missing.
You can't talk fitness tech and not mention Fitbit, right? Already a mainstay in the industry, Fitbit is upping the ante with its Charge 3 model, which is designed to track and monitor your health from a 360-degree perspective. From sleep and female health logging to fitness coaching and guided breathing sessions, this model is truly new and improved.