Everyone's Wearing This Unexpected Color On The Emmy Awards Red Carpet
Frazer Harrison/Getty Images Entertainment/Getty Images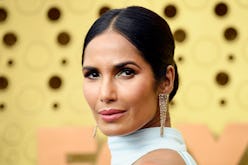 Though you currently may be preparing your wardrobe for fall — while it still feels like summer outside — one springtime trend dominated the 2019 Emmy Awards: baby blue dresses, in every dreamy, soft shade you can imagine. This shouldn't come as a surprise to those who kept up with New York Fashion Week's various Spring/Summer 2020 collections; the pastel continuously showed up alongside pistachio green and pale orange.
However, as you undoubtedly know, spring 2020 has yet to arrive — and the 2019 Emmys took place decidedly before it on Sept. 22. Nonetheless, the award show attendees have seemingly already embraced the next-season trend. It wasn't in short supply, either: Everyone from Brittany Snow to Padma Lakshmi to Sarah Goldberg took the color for a spin.
And each unique look proves just how versatile the soon-to-be-everywhere shade is. It's unexpectedly glamorous, as well; just take a look at the sleek gown worn by Goldberg, Barry star and Outstanding Supporting Actress in a Comedy Series nominee. Or, the high-neck dress chosen by Lakshmi — which exuded a red-carpet aura impossible to ignore.
Whichever way you choose to explore baby blue (this season or the next), continue scrolling to be inspired; all of the best soft blue dresses from the 2019 Emmys are ahead.
Padma Lakshmi
Padma Lakshmi's 2019 Emmys look was all about classics: think dangly earrings, slick hair, and this baby blue Christian Siriano gown.
Brittany Snow
Brittany Snow's take was gorgeously nostalgic, complete with a vintage-inspired gown and bright red lipstick.
Sarah Goldberg
Another retro ensemble, Sarah Goldberg's long-sleeved blue dress is a look to copy this winter.
Regina King
Trend spotters, take note: Regina King's detailed gown shows that a deeper Tiffany blue is another way to approach the shade.
Jameela Jamil
Likewise, a mintier blue shade — à la The Good Place's Jameela Jamil — offers endless options.
Lena Headey
Or, take a page from Game of Thrones actor Lena Headey and add a dash of dark florals and wintery velvet to the light shade.
Christina Applegate
It's all about sheer dressing this season, and what better way to take on the trend than with a shade that enhances its ethereal look?
Jenny McCarthy
McCarthy provided a lesson in juxtaposition on the Emmys carpet on Sept. 22, opting for a an edgy look that contrasted with the bright baby blue of her dress.