Kim Kardashian West's Emmys Dress Is So (So) Different From Her Usual Look
Todd Williamson/Shutterstock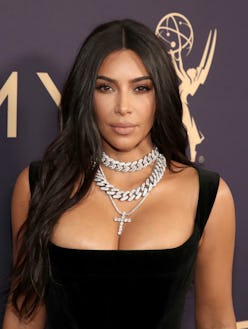 One of the best parts about the red carpet is that it gives the style set an opportunity to experiment with their looks. Whether it's granting their makeup artists complete creative freedom or wearing something that might not traditionally be their style, stepping out of their comfort zones is one fool-proof way to end up on all the best-dressed lists of the season. Never afraid to take a few risks, Kim Kardashian West's 2019 Emmy Awards dress is the polar opposite of the all-white ensembles the mogul has worn in the past.
In fact, she chose an all-black velvet gown by Vivienne Westwood, which made for a super-sleek appearance by the star at the Emmys. To top off the dramatic look, West accessorized with large silver chain-link necklaces and understated, neutral makeup that made for a very glamorous look overall.
West joined her sister Kendall Jenner (who was attending the Emmys for the first time) for the evening, who showed up to the event in a Richard Quinn ensemble, involving a latex turtleneck layered under a floral gown. The model also attended the event with a new hair color, going back to brunette after several days of the blonde shade she debuted during London Fashion Week.
The sisters, who presented the award for Outstanding Competition Program, were quite the duo in their unexpected looks — especially West, who's known for her white dresses at the Emmys of the past. Naturally, she took to Instagram stories before the event to tease her look for the night: "I'm not wearing white this year..." she wrote cryptically, leaving fans guessing at what outfit she'd show up in.
And of course, she showed up — big time. While it may not have been a *total* surprise — West did wear a form-fitting black gown to the Creative Arts Emmys last weekend — it was a welcome departure from her looks of the past. And though Jenner's never one to shy away from a daring look, hers was equally unexpected. A shiny black top underneath a classically beautiful gown is surely not a pair that most would foresee on the red carpet, but the model pulled it off elegantly and flawlessly (as always).
All in all, it made for yet another stylish evening for the books for West and Jenner, and it's one that certainly left fans talking. Now, the only question left to ask: Were they wearing Skims underneath?