Tory Burch's New Look Book Is Further Proof That The Animal Print Trend Is Here To Stay
Courtesy of Tory Burch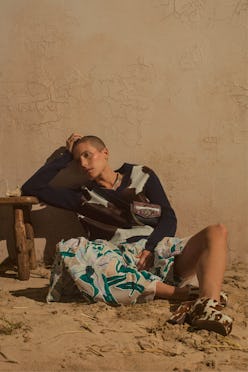 Tory Burch doesn't shy away from a good print. Whether it be an intricate floral gown, boldly striped pants, or a snakeskin bag, the designer's eponymous fashion brand is the place find new, engaging patterns. So, with last year's leopard print, snakeskin, and crocodile-embossed leathers fresh in your mind, what will be the 2019 animal print trend? As far as Tory Burch's Pre-Fall 2019 look book predicts, it's going to be cow print.
Tory Burch introduces the print on the cover of the look book through a bag casually half-tucked behind the model's shoulder. If you weren't trying to spy the cow print or found yourself distracted by the model's intricately detailed periwinkle dress, it'd be easy to miss. But the cow print steps up, quite literally, with the first official look of the collection: a subtly psychedelic green and blue striped dress paired with, you guessed it: cow print clogs.
By the seventeenth look, where cow print shoes are styled with a cow print bag and jacket, the pattern is undeniable. A quote from Tory Burch included in the look book sheds light onto the collection's backstory and the print itself. "Pre-Fall 2019 is inspired by artist Georgia O'Keeffe — the way she lived her life and how she interpreted the American Southwest. Saturated colors and textured finishes are influenced by the landscapes O'Keeffe saw and painted," Burch said.
"Modern shirtdresses, cotton tunics, and easy dresses are done in stripe-on-stripes, smocking, and Japanese indigo prints. Jewelry and accessories continue the story in organic sculptures, woven leather bags and pony clogs and lace-up shoes," Burch continued.
As you may know, O'Keefe found just as much inspiration in cows and their skeletons as Burch has found in her. The Art Institute of Chicago published a quote by O'Keefe alongside her painting Cow's Skull with Calico Roses, detailing her fascination with the cow skulls and animal bones she found in the Southwest. "To me they are as beautiful as anything I know. To me they are strangely more living than the animals walking around," the quote reads.
While Tory Burch interpreted the artist's romance with the Southwest and its creatures with a less gothic hand, the cow print acts as a distinct thread to O'Keefe in the collection — as does the literal cow skull occasionally pictured on the wall behind the model.
Nuances in the print help the cow print pieces work cohesively, even when layered together, even with other patterns. Tory Burch's cow prints feature a variety of spot colors, from pale coffee to milk chocolate to deep black. Its similar to the rainbow-hued animal prints of last season; sub in varied shades of cow print like how you paired white snakeskin trousers with a red snakeskin bag.
Fortunately, you don't have to wait until the cows come home to shop these pieces — Tory Burch's Pre-Fall 2019 collection will arrive in stores in June. As for cow print as a trend, only time will tell where else it'll pop up; though, as the perfect blend of last year's animal print obsession and Western-influenced style, things are looking up for this surprisingly sophisticated pattern.