Taylor Swift's Stella McCartney Collab Is Almost Here — Here's What You Can Expect
Frazer Harrison/Getty Images Entertainment/Getty Images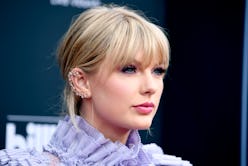 Grab your pencil and get ready to mark your calendars for Aug. 22, because that's when Taylor Swift's Stella McCartney collaboration is officially available to shop. Yep, in T-minus two days, you can get your hands on what's bound to be the most playful, colorful capsule to land online this summer. So, commit that date to memory, and start planning your shopping strategy, because it's highly likely everything from this major singer-and-designer partnership will sell out in a flash.
Earlier in June, Swift took to her Instagram to livestream a tiny tidbit of fashion news that set the sartorial world ablaze: The singer would be partnering up with British designer Stella McCartney to create a line of products surrounding the launch of her seventh studio album, "Lover" (which is set to drop everywhere on Aug. 23). At that time, no details were released surrounding what fans can actually anticipate from the collaboration; there was no official release date; and the price range was still TBD.
Well, that all changes now, because all the essential details of said Stella x Taylor range, which is described as a bold and colorful celebration of love and friendship, made from sustainable materials, have finally be released — and just two short days before it's shoppable. So, without further ado, here's what you can expect from Swift's latest foray into the (sustainable) fashion world.
As you already know, the designs in this collection are heavily inspired by Swift's "Lover" album — think: staples that are colorful, vivacious, and utterly magical — but there's more to it. According to press release, the range also draws subtle influence from vintage graffiti, band tees, nostalgic memorabilia, and Swift's lyrics. As if that wasn't already good enough, though, some pieces are said to feature the singer's cat, Benjamin Button, as a personal touch.
The core pieces in the collaboration run the gamut and will include everything from limited-edition T-shirts, comfy sweatshirts (a fall must-have), jackets, bags, and a reusable water bottle. Per the release, all the jersey used to create the items are crafted from organic cotton. Cute, comfy, and good for the environment? Check. No specific prices were listed, though they are said to be "affordable."
But it doesn't end there. Two limited-edition pieces have been created by the duo to offer fans something more exclusive: a bomber jacket and a handbag, both of which use sustainable, environmentally friendly production processes.
The bomber jacket, made from sustainable viscose, is about as Swift as it gets, featuring an airbrushed heart on the front and glass rhinestone detailing, while the logo handbag is designed from oyster-hued Eco Alter-Nappa leather. These exclusive pieces will ring in at $1995 and $795, respectively.
As for what to do while you wait for Thurs. to roll around? Head to the Stella x Taylor collaboration homepage and input your info (i.e., name, email address, etc.) to be the first to know when it drops. Oh, and you should start plotting what to add to your shopping cart while you're at it.